Blogging The New York Times: IKEA Hacking as Upcycling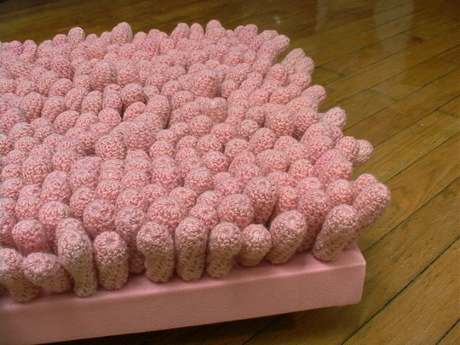 Green means rethinking what we mean by recycling. Upcycling, which is described in greater detail below, means that we're no longer interested in turning high-quality used paper and plastic into lower quality stuff: we want to take cast-off things and make them better.
Some of those cast-of things include what Maxwell has termed "carb furniture," or "fluffy, sweet short term furniture that doesn't last long." The problem is what to do with it after its intended life is over: unlike real carbs, furniture can't simply be exercised away.
So our fascination with the website ikea hacker was recently validated by this New York Times article on the global community of IKEA hackers who are upcycling IKEA into functional art, like the (admittedly labor intensive) wiener bench featured in the article and pictured above.
Two inspirational quotes from the article after the jump:
"I think there is a movement around looking at all the products that are available — this global stream of stuff — and realizing you can tinker with them and rebuild them."
-Michael F. Zbyszynski, assistant director of music composition and pedagogy at the Center for New Music and Audio Technologies at the University of California, Berkeley
"Mr. Kalin is big on 'upcycling,' a process whose name was coined by William McDonough, an architect, and Michael Braungart, a chemist, in their 2002 book, Cradle to Cradle: Remaking the Way We Make Things. They used the term to describe the process of taking something that's essentially waste and moving it up the consumer-goods chain. "I love upcycling," Mr. Kalin said. 'I love this idea of bringing something from lower down and elevating it.'"
Apartment Therapy supports our readers with carefully chosen product recommendations to improve life at home. You support us through our independently chosen links, many of which earn us a commission.