The Color That Will Reign in 2017 (There's No Denying It)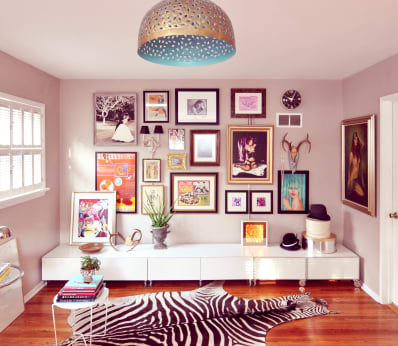 There are a few privileges to being an editor in the design world, one of which is getting to see the future (a.k.a. what's going to be in stores well before anyone else is privy to that information). This comes in handy when trend forecasting happens to be your sport of choice.
This past February, I was invited to Frankfurt, Germany, to visit Ambiente, one of the largest consumer goods trade fairs in the world to check out what we'll all be buying in the coming weeks and months (maybe even into next year). Pavilion after pavilion (after pavilion) showcased every product for the home you can think of: Ellen DeGeneres' new line of dinnerware for Royal Dalton, concrete light pendants from Vaspi Studio, earbuds attached to strings of metallic beads for your smart phone from Fashion Headsets, a (super handy!) light for the inside of your purse, a minimalistic wood stool by Japanese design studio Bouillon that is warmed by pouring steaming water into an opening in the clay seat (for real though, this was quite the treat to sit on…like holding a warm cup of tea…for your bottom). The list goes on and on.
Sure, there was a plethora of amazing products to see for the kitchen, bedroom, bathroom, garden and beyond, but something immediately stood out to me from the thousands of vendors. Blush was everywhere, and I mean ev-er-y-where. It was unlikely that the offerings from any give booth wasn't available in the soft pink hue. I might have dreamt it in the stupor of walking 19,000 steps one day, but I swear, there were brands where everything they offered was blush.
To say I was surprised would be a blatant lie, to be honest; after all, it wasn't but a year ago that I declared blush the new gray (a prediction that has played out quite nicely, if I may say so myself), but surely, I had thought it would be phased out in 2017, possibly being replaced by jewel tones, or neons or something on the complete opposite spectrum from the pastels that reigned in 2016.
I have to say though, I'm not mad at it. There were headphones I almost took home from aHead Kreafunk in the sweet rosy tone, and the new line of bathroom accessories from Blomus shined the brightest in blush. I began losing track of all the beautiful goods in the muted pink because they all started blurring together in my mind, creating one big heap of pretty, pretty pink. I had committed to ignoring the blatant fad, in hopes that I'd stumble onto a less obvious—but still totally valid—trend, but there was no denying it after a bit: blush is here in a really big way, and it's not going anywhere anytime soon.
Apartment Therapy supports our readers with carefully chosen product recommendations to improve life at home. You support us through our independently chosen links, many of which earn us a commission.