There's a Bob Ross Edition of Monopoly, and Yes, it Has a Happy Little Tree Game Piece
We
independently
select these products—if you buy from one of our links, we may earn a commission. All prices were accurate at the time of publishing.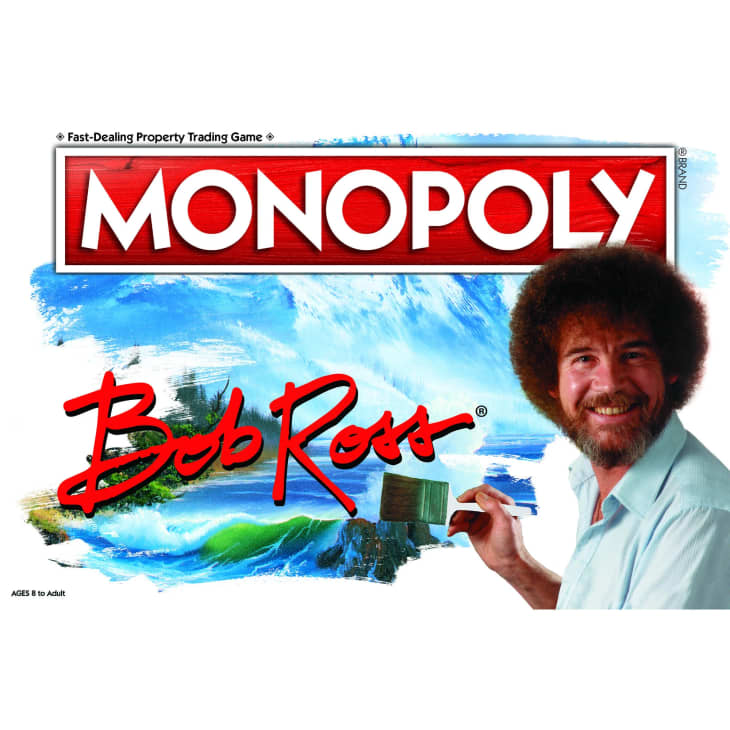 A round of Monopoly often ends up in flared tempers and broken friendships, but Hasbro has released a Bob Ross edition that, instead, soothes and relaxes.
Said to be the most peaceful edition of Monopoly, the game doesn't ask you to paint alongside the iconic artist. However, you can buy, sell, and trade Ross' works of art from his television series, "The Joy of Painting." And instead of having to ruin each other financially, you and your family and friends can "take advantage of whatever happens." That sounds both therapeutic and capitalistic—but you'll just have to take Ross' word for it.
The board game, in keeping up with the theme, also features 16 "happy little accident" cards, 16 "The Joy of Painting" cards, and 32 cabins and 12 covered bridges (instead of houses). For the tokens, the usual top hat and boots are replaced by a squirrel, a pine tree, an easel, a picket fence, an owl, and a paint palette. The winner will be the last one standing with the most Bob Ross money.
With this year being so stressful, the Monopoly: Bob Ross edition board game couldn't have come at a better time. You can pre-order for $39.99 via Hasbro Pulse's website.