Wonder How Bobby Berk Finishes Those "Queer Eye" Makeovers in Three Days? Two Words: Secret Warehouse
We independently select these products—if you buy from one of our links, we may earn a commission. All prices were accurate at the time of publishing.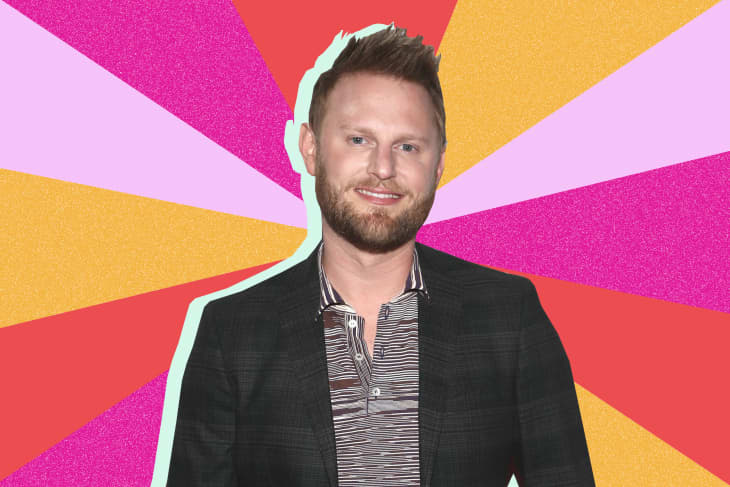 It's been widely discussed how amazing Bobby Berk is on "Queer Eye." Tell me, how many people can finish a home makeover over a three-day timespan? But in a recent interview with Fast Company, we got a glimpse into how this seemingly impossible task is possible—Berk has a secret warehouse. 
Follow Topics for more like this
Follow for more stories like this
When asked about his high productivity on the show, Berk spilled the tea on how he starts planning weeks in advance, even though he doesn't meet the hero until they start filming. Wherever they're based for that season, Berk and his team scout out a nearby makeshift warehouse where they stock up on pre-ordered art, accessories, and other home items that they could possibly use throughout the season. That way, they don't have to search for home essentials while they're actually filming—because, you know, they only have 72 hours. 
Berk makes sure they have main pieces of furniture in stock so he doesn't have to worry about scrambling for staples, like a sofa. But in the process, he also orders an array of random art and decor items that could potentially be a personal touch that gets the tears flowing during the reveal—even if he doesn't know the hero's personality yet. 
"Sometimes we'll pick things and I'm like, 'There is no way we're ever going to use this. This is awful," said Bobby. "But then I'll get to a hero's home and I'm like, 'That awful piece of art that I would never have imagined I would ever use in a home is so perfect for them.' It'll be something weird and quirky that I've learned about their personality, and when they see that [art], they're like, 'Oh my god, you get me!'"
Even while Bobby and his team are working on a home makeover, they're also prepping for future episodes through keeping the warehouse stocked and ready. But it's not always just filming one, planning ahead for another—Bobby mentioned that at any given time, they could be working on four hero homes (?!). 
It also helps that the home makeover crew gets to visit some of the homes a few weeks before meeting the hero. "I don't meet them, but I at least check out their space and get basic measurements," said Bobby. "We often give them new flooring or window shades or kitchen cabinets, and those are the type of things where there is no way to do it the week of." While Bobby can't fully prep personal touches since he doesn't know the hero yet, he can at least get a head start on the bigger projects that are part of the renovation process. 
So after getting insight into his secret warehouse and planning process that allows him to work a few weeks in advance, he seems a little more human—but only by a little.