Brand New Renovation Diary! Meet James & His Cramped Brooklyn Kitchen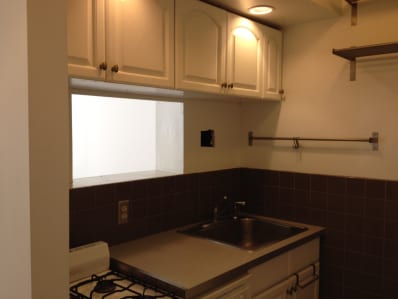 (Image credit: Submitted by James)
Name: James
Type of Project: Kitchen Remodel
Location: Prospect Heights — Brooklyn, New York
Type of building: One Bedroom Co-op
The Renovation Diaries are a collaboration with our community in which we feature your step by step renovation progress and provide monetary support towards getting it done in style. See all of our Reno Diaries here.
After a year-long apartment hunt, James found a lovely one-bedroom apartment in a charming part of Brooklyn. The kitchen was a little cramped and underwhelming, but surprisingly, that's exactly what James was looking for. He knew he wanted a space he could customize, and this space fit the bill.
Here's what James has to say about his place:
(Image credit: Submitted by James)
I spent the the better part of year looking for an apartment in Brooklyn that needed some renovation. I found almost everything I was looking for just a few blocks from where I had been living, in Prospect Heights.
→ Ready for More? Read James' complete Renovation Diary series right now.
(Image credit: Submitted by James)
Located in a small co-op, my one-bedroom apartment is never going to be any more than 500 square feet, but I know it has the potential to feel more spacious. The first thing that has to go is the wall separating the living space from the kitchen, which is seriously outdated, cramped and completely devoid of natural light.
(Image credit: Submitted by James)
(Image credit: Submitted by James)
Basically, everything from the stove to the sink (a distance of 70") will be demolished. Using the same locations for each, I'll install a new 24" range, a 18" dishwasher, a sink, cabinetry and countertops. The most major work involves removing the existing wall with the opening and adding 15" deep base cabinets facing into the living area. The floor will need to be retiled, but I don't plan to retile the entire wall as it exists now.
(Image credit: Submitted by James)
I plan to:
Knock out half of the wall (not load-bearing) separating the living area
Replace dishwasher, range, refrigerator, cabinetry
Remove tile backsplash and retile floor
Update lighting
Use existing layout to avoid moving gas lines and plumbing)