British Christmas Adverts That Always Make Me Cry, For Reasons Unbeknownst to Me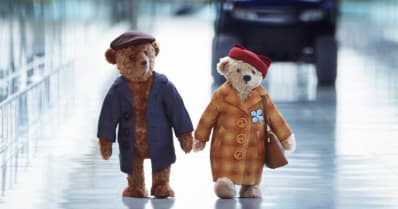 (Image credit: Heathrow)
Look—I like the holidays in general, but I LOVE the holidays when they're tender and melancholy. The Family Stone? Give it to me. Leslie Odom Jr.'s Christmas album? Cue it the eff up. Those British advertisements for stores I've never heard of and will probably never step foot into? YES PLEASE. I don't know what it is, but these commercials just get to me.
Turns out, the mix of some sort of animatronic bear or cat, an old person who looks confused, and a roaring fire thrown in for good measure is the perfect recipe for making me cry. This year's crop of ads do not disappoint, so if you're looking to make the smooth transition from Thanksgiving content to Christmas content, look no further than these commercials.
Heathrow Bears
The biggest lie Love Actually tried to sell us is that airports are somehow romantic. Not true in life and not totally true in that movie, but somehow kind of works in this advert? Maybe it's because they're bears and everyone in the airport doesn't notice or care, which is incredibly charming, if highly unbelievable. Maybe it's because it starts in the golden age of airport travel. Or maybe, just maybe (leans in, whispers) it's the magic of Christmas.
John Lewis Moz the Monster
Oooooooooooooooh boy. This one is just... wooooo.....like a mini Where The Wild Things Are gut punch with one of the more melancholy Beatles' songs and a super cute kid. I hate this commercial for what it has done to me.
Tesco Turkey Commercial
This is a commercial that seems to be built around the premise that cooking a turkey is more trouble than its worth (not so, btw) and yet, it's totally heartwarming. Covering the many ways families come together, it captures the balance of things being both totally lovely and incredibly infuriating simultaneously, the true hallmark of Christmas.
Another Turkey Commercial
This commercial is neither melancholy or current, but it does have Jeff Goldblum, and I wanted to leave you on a high note. Happy holidays!
Please tell me I'm not alone in this, do you cry at holiday commercials? Share your favorites!
Apartment Therapy supports our readers with carefully chosen product recommendations to improve life at home. You support us through our independently chosen links, many of which earn us a commission.