How to Budget for Decorating Your First Apartment
We
independently
select these products—if you buy from one of our links, we may earn a commission. All prices were accurate at the time of publishing.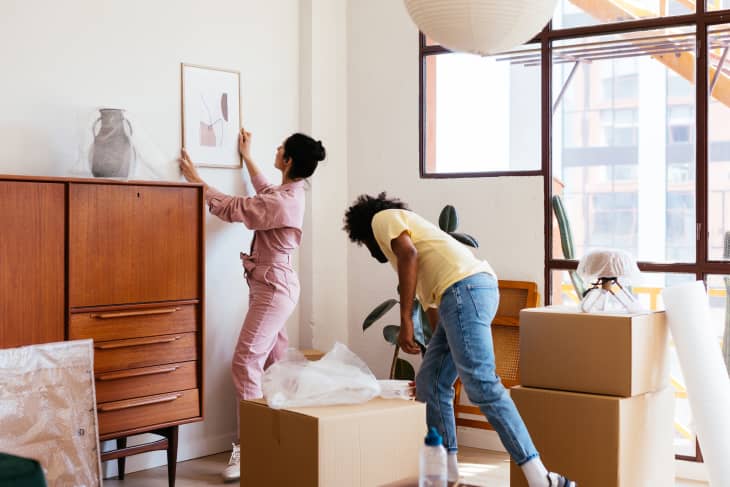 Are you moving into your first-ever apartment and wondering how to even begin to fill it with furniture and decor you love (and won't regret a few months from now)? Make your way through our starter pack. This content was created independently by our editorial team and generously underwritten by the Toyota Corolla Cross.
You did it: You signed the lease on your first apartment. And you can't wait to make it your own. 
The reality is, no matter how much or how little money you have to spend when decorating your first apartment, planning out your overall budget from the get-go is a must. Here, experts explain how to do so in a way you can easily stick to.
Step 1: Look at the big picture.
Tanja Hester, author of "Wallet Activism: How to Use Every Dollar You Spend, Earn, and Save as a Force for Change," recommends contemplating furnishing and decorating your apartment in the context of your other financial habits. "When considering how much to spend, and what it will require to save that up, it's helpful to think about your overall financial picture, including your longer-term goals," she explains. "Are you trying to pay off debt? Do you want to start saving for retirement, or ramp up how much you're saving? Are you hoping to start saving for a down payment to buy your own place?" 
Essentially, before you do anything else, give a good think on how you spend and save, and what your financial priorities are for now and the future. As Hester puts it, "It's not worth jeopardizing your overall financial health or future goals for decor, but you can budget for decorating goals the way you'd budget for a vacation or any other short-term goal."
Once you've got the context, how do you come up with a thoughtful total budget for your apartment decor? Kimberly Palmer, personal finance expert at NerdWallet, suggests examining your take-home pay to calculate an absolute overall limit per paycheck. "We suggest first applying the 50/30/20 budget to your overall take-home pay, which means 50 percent of it goes toward needs, 30 percent toward wants, and 20 percent toward savings and any debt payments." 
From that, Palmer says your apartment decor budget will go in the "wants" bucket. Of course, that equation gives you a budget ceiling, but you'll then need to figure out if you'd like to stick with that maximum or lower it further based on your big picture. For example, if you'd also like to put aside some "wants" money for a trip out of the country, you'll need to factor that in.
Step 3: Plan for it to probably take a bit.
Don't worry if this means making decor purchases slowly and putting a smaller amount of money toward them each month. Sometimes that's what it takes, and that's totally okay. "Decorating your apartment can take time, and using credit cards or other forms of debt to do it more quickly can end up dragging down your finances for months or even years to come," warns Palmer. 
Once you've got a bird's-eye view and you've run the numbers, decide what you want to spend your hard-earned money on first. If you don't have furniture already, it probably makes most sense to budget for functional items first — the things you'll use on a daily basis. 
After listing out everything you already have, think through your daily routines and determine what you need to add. Kathleen Anderson, an interior designer based in Chattanooga, Tennessee, and Austin, Texas, suggests prioritizing things you'll use more, like a bed, table and chairs, and a couch. Then, budget for the non-essential essentials. 
For example, you probably don't want your mattress on the floor forever, so once you've got the mattress, figure out a plan to get a bed frame if you don't have one. If aesthetics are just as important to you as functionality, then you may need to decide whether that rug you've been eyeing is going to add more to your space than a headboard. 
Throughout the process, Anderson suggests introducing a few easy-but-high-impact pieces of decor. "Add some little touches that feel like home, like a cutting from your grandma's plant in a thrifted boot," she says. Remember: The idea isn't to make your space perfect, but to make it feel like yours, little by little. 
The good news is, none of this stuff has to be expensive — you can spend money on what feels like the right investment for your space. Anderson says you can find stylish, well-made furniture and decor on Facebook Marketplace, Craigslist, in thrift stores, and even on apps like Poshmark. You can also ask friends and family if there's anything they're planning to part with. If you score something for free or way less than expected, move that money to another area of your decor budget. 
This is also your chance to learn about where you turn to rest a coffee mug or grab a glance in a mirror before you head out the door, and where pieces of furniture might get in the way as you head from the kitchen to your living room. You might even discover that you don't need an item after all — maybe you can skip the desk because you're perfectly happy working at the kitchen table — but definitely need something else, like a bookshelf for your expanding book and tchotchke collection. 
Additional reporting by Ashley Abramson