The $9 Find That's Literally Holding My Bed Together
We independently select these products—if you buy from one of our links, we may earn a commission. All prices were accurate at the time of publishing.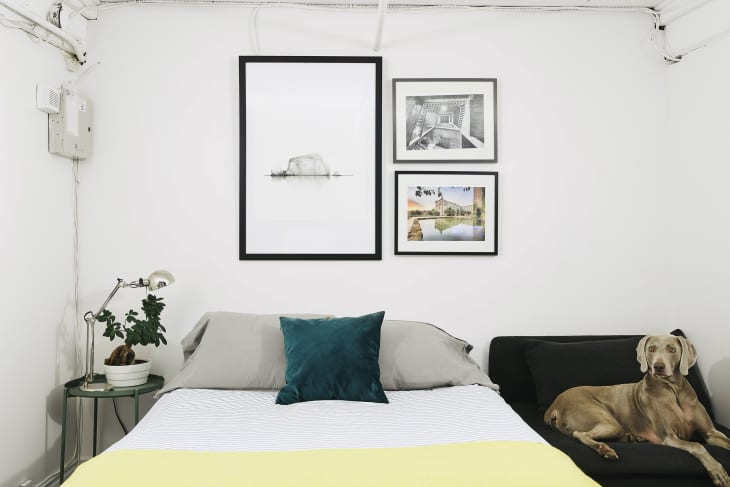 I like old things. I really like old things.  I try to limit what I buy "new" as an effort to be more eco-conscious, yes, but I also just gravitate toward old things. That's why, when my antique cast iron bed frame broke during my last apartment move, I was devastated. Was I going to have to buy a new bed?
Do you know how expensive new beds can be?
Follow Topics for more like this
Follow for more stories like this
If I bought a new bed, would that mean I had to let go of this bed frame that's been in my family for I-don't-know-how-many years? I wasn't ready to do that. I looked up welders in my area that could fix this sort of thing (the side had fully detached from the footboard), and, wow, it wasn't going to be cheap.  I had just spent so much money to move, and I could already feel the welding guy trying to rip me off. I wasn't ready to do that, either.
Enter Gorilla Tape, a super strength duct tape. Like, super strength.
Gorilla Tape is made by the same company that makes Gorilla Glue, so if you're familiar with that kind of holding power, then you can understand: What Gorilla Glue is to Elmer's, Gorilla Tape is to regular duct tape. It's so much stronger—and wrapped around the rickety part of my bed, it's held together for months.
No matter what version you're using, Gorilla Tape claims to hold up to 30 pounds. In my experience, I think that's an extremely humble assessment. I've already mentioned it has held together my bed, and it's also currently holding together my patio chairs (more on that later). 
Best part? It's cheap. We're talking under $9 cheap. That's less than a movie ticket! Less than a fancy sandwich! Less than a paperback book!
Amazon reviewers say Gorilla Tape has successfully held together tail-lights, side car mirrors, bumpers, furniture, windows, and even vinyl pools when a strong, quick solution was needed.
All that to say: I'm glad I already had some in my possession when I fell through one of my patio chairs this summer.
We had just moved in and the furniture was on its last leg (a previous owner had left it behind), but it was nearing the end of summer, so we figured we'd use the chairs for now and fully re-do the outdoor space next spring.
Nope.  The material underneath the chair cushion had dried out to the point of breaking, so it could not support my weight. Enter Gorilla Tape to save the day again. I easily made a faux-bottom for the chair cushion by wrapping the Gorilla Tape around and around the chair bottom.  It doesn't look beautiful, but no one sees it, and it has continued to hold.
The other chairs seemed like they were going to hold up, but I continued to choose the Gorilla-Taped-chair when sitting outside, because I trusted it. Turns out, I had good instincts: A few weeks later, I had some friends over and someone else fell through another chair. After that, I just Gorilla Tape-d all of them.  
Maybe I'll get some new chairs next summer when I re-do the outdoor space. Maybe I won't.  After all, at my house, if it ain't broke… it's probably being held together by my Gorilla Tape.