The Easy $10 Room Transform Trick That I Stole from Working on a Movie Set
We independently select these products—if you buy from one of our links, we may earn a commission. All prices were accurate at the time of publishing.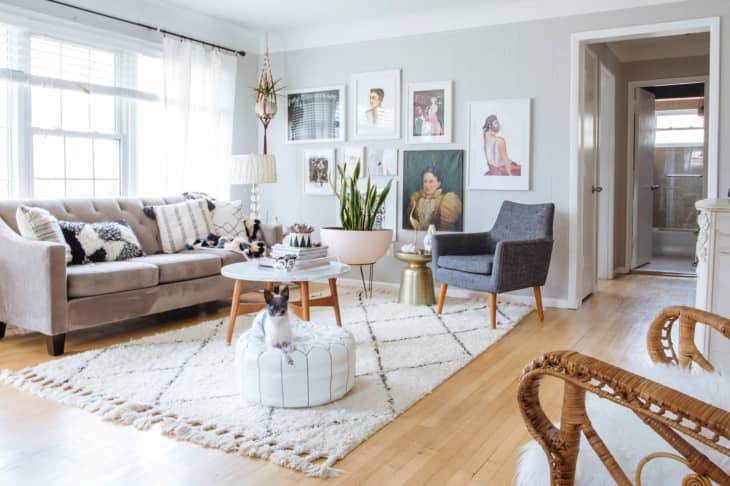 Much like a good budget renovation, producing an indie film is all about doing as much as you can with as little money as possible.
That goes double for producing an indie film during a pandemic, which means that you're trying not only to DIY and repurpose as much as possible, but also to limit in-person exchanges.
As the Production Designer for "Hungry Dog Blues," a small town crime thriller set in rural Missouri that filmed this October, my largest task was creating an entire farmhouse that looked lived-in but thoughtful, without having to do a ton of shopping around.
In my mind, I associate sheer curtains with my grandmother's house, where they were hung on the windows and paired with valances. But if you're a TV or movie watcher, you'll notice that sheer curtains are in almost every show right now. From Netflix's "Dash and Lily" to HBO's "The Undoing," this trick is at the ready. It doesn't discriminate against genre, and it's definitely not a trick reserved for small-budget indies.
Sheer curtains can dramatically change the look of any room—and that includes rooms outside the cinematic universe, too. Here are three reasons why you should consider giving sheer curtains a try in your own home.
They shift the focal point of a room
The reason you might not have noticed sheer curtains in your favorite TV show? They are meant to fade into the background. For a film, this is fantastic because it brings the focal point onto the actor. The viewer isn't distracted by something going on outside the window.
From a design perspective, it's equally fantastic, because you can make bolder choices within the room since you don't have wild, strong curtains fighting for your eye's attention (or a clear view into your neighbor's yard across the street).
Another reason sheer curtains are great?
For a film, this automatically puts you in a better place to save money and time on intricate lighting rigs. It's the first line of defense against harsh light.
From a design perspective, adding a softness to your space can help it feel more cozy, and it's also great for your plants to help filter the light if you have south-facing windows. This is the main reason I use them in my plant-filled Brooklyn apartment.
And if you're a selfie fanatic, you know that soft light is your friend—which seems especially timely given the number of work from home Zoom calls on nearly everyone's schedules these days.
The final reason sheer curtains are a great option?
They are cheap and widely available
From a film and a design perspective, this is great news. With prices starting at less than $10, this frees you up to spend more of your budget on things that can really make a statement, and with in-person shopping limited or risky in some areas right now, procuring sheer curtains from sellers like Amazon or Target is very simple. They even come in other light colors such as cream or gray, so you're not limited just to the standard white.
So if you're searching for a fix that will instantly transform your space, consider adding sheer curtains to your windows. You don't have to be making an indie movie in a pandemic to reap their benefits.