How to Lay Out a Bullet Journal, According to 3 Very Different People Who Swear By Them
We independently select these products—if you buy from one of our links, we may earn a commission. All prices were accurate at the time of publishing.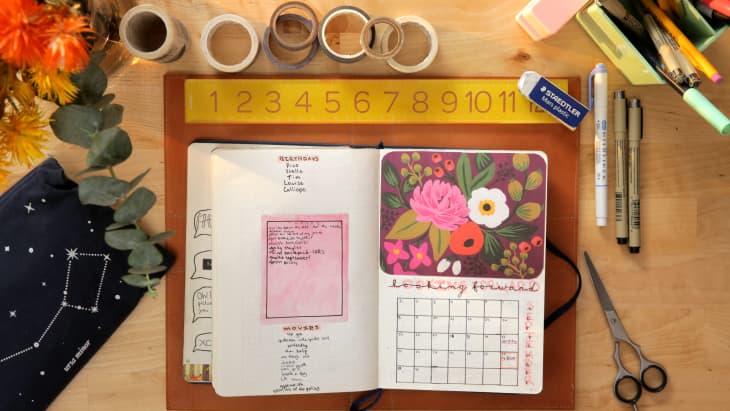 Follow Topics for more like this
Follow for more stories like this
Whether you're a beginner or a seasoned pro, it's helpful to see how others customize their journals. So we asked three Apartment Therapy bullet journal devotees to share their process and show us how they create their layouts (and give us a peek at past journals, too).
CEO: Detailed weekly view and habit trackers
Apartment Therapy CEO and founder Maxwell Ryan started bullet journaling in 2019. He includes a future view (a yearly calendar decorated with seasons) and a monthly view (which he draws freehand—many people still believe in rulers, just not Maxwell), but the workhorse is his weekly. Maxwell uses the left-hand page of a spread for daily to-do items, while the right-hand page is for notes and priorities. "I know exactly what I have to do…it almost keeps it at the top of your head," he says.
Maxwell also uses habit trackers for things like yoga and meditation. He calculates the percentage of days he did each task at the end of the month, "because I'm interested in what percentage I got to."
Video Producer: Work vs. personal, plus washi tape
Executive Video Producer Anne Ebeling says her bullet journal is all about trial and error. After trying several different layout options in the 18 months since she started, she finally found a weekly log that works for her: splitting up work and personal to-do items in columns on one page, with boxes for each day on the opposite.
Anne also makes use of washi tape to add color and pattern to her pages, as well as hide mistakes. "This has been a really good exercise for me in letting things go," she says. "Does your life look perfect every week? No. And this is a reflection of you."
Teen: Don't make it a chore
13-year-old Ursula has a tip every would-be bullet journaler should take to heart: make it fun. In addition to calendars and to-do lists, Ursula uses her BuJo as a scrapbook, including pages plastered with birthday present wrapping paper, as well as postcards and drawings from friends alongside monthly goals and movie ratings.
"It shouldn't be a task that you have to do every night," she says. "It should be something you enjoy doing instead something you feel like you have to do every single day."