Busting the Millennial Myth About Living at Home, In Real Numbers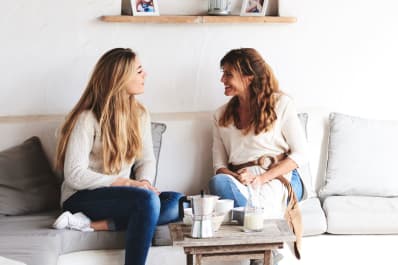 (Image credit: Guille Faingold/Stocksy)
Spend five minutes on the internet on any given day and you're sure to find yet another article talking about how millennials are lazy, entitled, and bad with money—as if the occasional avocado toast purchase can really be the reason why they are having such a hard time buying homes. We all know that's not true— I'm sure you've heard of this thing called student loans? Or, you know, the housing shortage?
By the looks of the headlines, it feels like older generations want to blame millennials for just about everything that's not going right these days, but the truth is, millennials aren't all that different from how their parents and grandparents were when they were young adults.
In fact, according to a recent report from Trulia, people in Generation X were just as likely to live with their parents as young adults as millennials are now, and beyond that, baby boomers were even slightly more likely to live with their parents. When those in the middle of the baby boom generation were between the ages of 28 and 32, they were 2.8 times more likely to live at home with their parents or grandparents than 33-55 year olds of their time were. Millennials, by comparison, are only 2.7 times as likely to live at home than older people still under 55.
The report also noted that, no matter the generation, recessions hit young adults the hardest—that's when they're most likely to lose their jobs and move back home.
It is important to note that millennials are still facing the lowest rate of home ownership since 1975. As of 2016, only 14.5 percent of millennials aged 28 through 32 actually lived with their parents or grandparents. Of those who don't live at home, 39.1 percent of millennials in that age range lived in a home they owned, compared with 63.2 percent of people ages 33 to 55.
Unsurprisingly, the report noted that young adults are increasingly putting off buying a home as they're also delaying marriage and having children.
As for the cities where today's young adults are more likely to be successful than older generations? In Philadelphia, Grand Rapids, Omaha and New Orleans, millennials are more likely to own homes, have jobs and make more money than their older peers—in Bridgeport, CT and Newark, NJ (among a few other cities), however, not so much.