Turns Out Busy Philipps Loves Weighted Blankets Just as Much as You Do
We independently select these products—if you buy from one of our links, we may earn a commission. All prices were accurate at the time of publishing.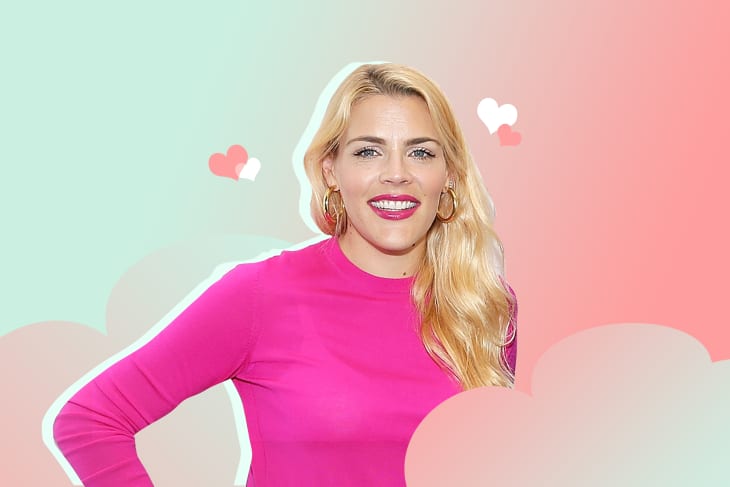 In our opinion, Busy Philipps is one of the most honest celebrities out there. She'll tell it like it is and doesn't shy away from the truth—which also makes her undeniably hilarious. Seriously, have you seen her Instagram Stories?!
Follow Topics for more like this
Follow for more stories like this
Her acting career began on "Freaks and Geeks," which she followed up with her role on "Dawson's Creek." Since then, Philipps has been in many films, from "White Chicks" to "He's Just Not That Into You" and "I Feel Pretty." In the past year, Philipps published a memoir titled "This Will Only Hurt a Little," hosted her own late-night talk show "Busy Tonight," and has become a Michaels spokesperson for the holiday season. Busy much?
Since it's the most wonderful (and stressful) time of the year, we sat down with Philipps to ask what happens when she stays in at home. And yes, she's as funny IRL as she is on Instagram?
Describe your perfect homebody scene in five words:
Epsom salt bath, TV, sleep.
Are you alone or with someone else?
I prefer to be with someone else. Most of the time it's my husband Marc. If it's nighttime my kids are probably sleeping, but also I have a lot of friends who come over and hang out at my house.
What's your night-in uniform?
My Mr. Nightgown. I have these Natalie Martin collection dresses. When I first got them, I was like oh this is what I want to wear all the time, I never want to take this off. So I would put it on as soon as I got home and stay in it for making the kids dinner, putting them to bed, watching TV, hanging out if my friends came over. And my little one, who was like 3 at the time, started calling the dress Mr. Nightgown. She would say to me, oh mama, are you going to put Mr. Nightgown on now? And I realized that Mr. Nightgown was a sign to her that I was in for the night, things were going to be cozy, we were going to wind down. Then I started calling my dress Mr. Nightgown on Instagram and everybody started calling the Natalie Martin dress Mr. Nightgown. I don't know if Natalie Martin loves that, but it's a really beautiful dress.
What two people, dead or alive, would you let crash your night?
I would be really uncomfortable if anyone dead showed up because obviously I would know they're dead. Like Jesus, we know it's Jesus, but do we have to catch him up, like how is that working? I feel like this question gives me so much anxiety about if it were real, like what I would do? That is my answer.
TV because I am a very busy person [sticks tongue out] and I do so much and I fall asleep [during a movie] unless it's a movie I'm dying to see. I do love a documentary, but not one that's going to make me upset.
We always play music in my house. My driver told me that I have a very eclectic taste of music, and I was like, Arthur… thank you. So I really do listen to a ton of different types of music, but to categorize it, probably indie rock. You can also go on Instagram, because I'm always posting my current favorite songs on Insta.
Yes, always crafts! We do all kinds of crafts in my house, which is why I partnered with Michaels. We go there on a Saturday morning and we pick out crafts that we want to do, and we have a lot of supplies in our house, too. Around the holiday, I do encourage the girls—and I like to do it, too—to make personalized gifts for family members, teachers, friends. I just think it's so much nicer than buying stuff.
Order in or cook for yourself?
We cook for the girls, and Mark and I order in.
We live in Los Angeles and there are so many good restaurants and, you know, the Thai food that I could make in my slow cooker is not going to be anywhere as good.
What drink are you pouring?
I'm always drinking a lot of water. I have these giant cups of water at home that everybody makes fun of me for. I'm not really a person who drinks wine or a cocktail at home.
I have a sweet tooth, it's well documented. I love gummy candy and dark chocolate chips, those are the two things I like.
I have so many late night snacks! If I'm trying to be healthy and caring about trying to be healthy, I like those dehydrated apple chips that have cinnamon on them. If I don't have that, then all bets are off. I do gummy candy or my chocolate chips that I keep in the freezer, and I really like ice cream at night.
Nay. I have really sensitive sinuses.  
I don't do bubble baths, but I'm very into Epsom salt baths, and I like this stuff called Dr. Singha's Mustard Bath. I'm just trying to detoxify, sometimes I put crystals in my bath. I didn't even know that was a thing, but on my talk show Jenna Dewan told me that you can put crystals in your bath and I was like great, okay, yeah I'll do that. What are they going to do to me? I don't know, nothing probably, but maybe something. I just want the energy.
I don't know who she is, I'm sorry.
As early as possible, that is my ideal bedtime. Is 7:30 p.m. too early?
Thanks for chatting with us, Busy!