Should I Buy a Cheap House in Idaho, or Try Living in a Mobile Home?
We independently select these products—if you buy from one of our links, we may earn a commission. All prices were accurate at the time of publishing.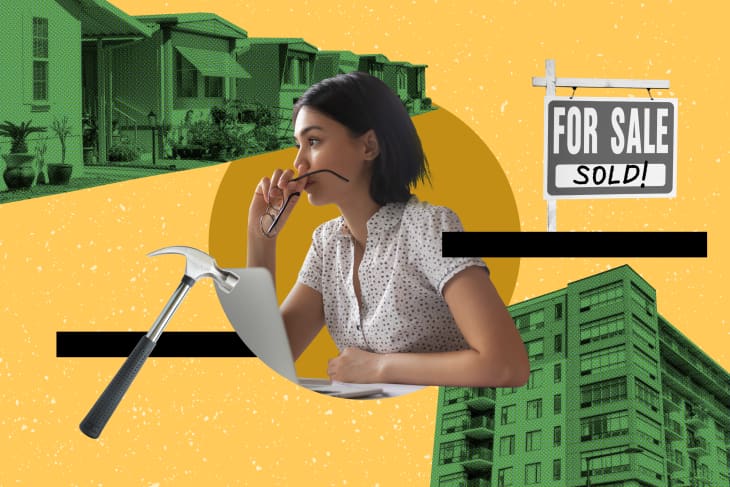 Welcome to Key Questions, a real estate advice column where we address your conundrums related to renting, moving, buying, selling, housing, and more. Ask us your weirdest and weightiest wonderings at advice@apartmenttherapy.com.
I'm finding myself closer than ever to buying my own home. I'm a single, 29-year-old dog owner. I have worked hard to get to a point financially where I feel that affording a home on my own is doable. Last year, I found a job at a great company in Idaho—a more affordable part of the country. I've paid off my student loans, my car, and recently moved to a much cheaper apartment with a roommate to speed up my saving for a down payment.
For the last six months I've really committed to learning about the housing market in my area. One of the downsides is that in the last year prices have gone up exponentially. With the housing market so hot right now, I've been looking into more affordable alternatives to standard home buying. 
One is to buy a real fixer-upper. Those go off the market pretty quickly since people like to flip them for a profit. There have been a couple that have come onto the market but the amount of work required (plumbing, electric, HVAC, etc.) is pretty thorough.
The other option I've considered is purchasing a mobile home. The mobile home neighborhoods in the area are pretty nice and are occupied by younger people like me and older couples who have lived there a long time. I would be able to get a relatively nice two- or three-bedroom home for around $80,000 and renovate it to my liking. The thing that worries me is that I wouldn't own the land my home is resting on. I would be paying a monthly rent of ~$500 on top of my home loan. Real estate developers have been buying up land right and left and turning them into housing developments and I am worried that in the next five years or so a developer will buy out the current landowners for the mobile park neighborhood and hike up the land rents to where it would be more than if I had just bought a house.
I've considered condos and have looked into the ones around town, but I just don't think they're for me. I have to stay in the area for my job as well, so moving elsewhere isn't an option. I've planned it out and I will have enough for a 10 percent cash down payment on a $210,000 home by March of 2021.
Sincerely,
No Small Potatoes
Congratulations! This is no doubt an exciting time for you, even if you're having trouble deciding which path to take. You've clearly been planning, saving, and researching—and it's all about to pay off.
So, what kind of home should you invest in? First, it seems like you've already dismissed fixer-uppers as a possibility. If you're tired just thinking about the work you'd need to put in the ones that've hit the market, it's likely not the route for you. Fixer-uppers are exhausting, and can turn into money pits if you're not careful.
The root of your question seems to be this: Is buying a mobile home worth it? The answer, as you know, is complicated. Anytime I come across a complex question in my life, I make a pros and cons list. There's something about writing things down—and seeing it all in front of me—that helps me make a decision. Let's weigh the pros and cons here:
Cons of buying a mobile home in Idaho
You won't own the land under the home, so you would have to pay rent on it or eventually buy a plot of land to put it on
A developer could scoop up your mobile home park at any time and possibly hike up that rent
A mobile home tends to depreciate in value over time, according to Chris Carpenter, a broker with Story Real Estate in Moscow, Idaho
Pros of buying a mobile home in Idaho
You'll pay an incredibly low cost per square foot, giving you a lot of financial flexibility
You can, like you said, renovate it to your heart's content, adorable storage solutions and all
If a developer did buy your mobile home park—and maybe decided to sell the park—you'd still have your house (just not the land!)
Here's yet another way of looking at this: Is buying a mobile home a better option than buying a traditional home? Your mention of having enough money for a 10 percent down payment in the spring is telling. (Congrats again!) There's an antiquated myth that folks need at least 20 percent down before they even consider putting an offer in on a house. This simply is not true. Many conventional lenders will accept less than that—some as little as 5 percent. And there are options like FHA loans, too, which allow you to put down 3.5 percent if you meet its debt-to-income ratio requirements. 
Carpenter recommends securing a lender and a buyer's agent to help you assess all your options. "You may also be able to get preapproved for a much higher price point than you realize, so it would be great to find that out now," he says. "Interest rates are so low right now, which makes it a great time to buy. If you might have been able to afford $210,000 last year, this year you may be able to qualify for $235,000 to $250,000 with the exact same payment because the interest rates have dropped so much."
This is all to say that you have more than enough money to buy a "real" house. So if you're only considering a mobile home because of the price, think again. You could put less down on a traditional house and use some of your leftover cash for renovations. Or you could spring for the flexibility of a mobile home, spruce it up, and if you needed to, sell it down the line—but for a lower price. The thing to keep in mind is that a house is an investment.
"A mobile home will not appreciate [in value] like a site-built home," Carpenter says. "In fact, a mobile home tends to depreciate. It may be a good option for various reasons, but if you are looking for an investment with resale value, a mobile home is not a good option."
When you picture where you want to be in five years, what do you see? Are you living inside an adorable tiny house on wheels with your doggie, surrounded by like-minded young folks? Or maybe you're putting the finishing touches on a cottage with a backyard that your dog loves to run around in?
Either way, you'll be a homeowner—and that's definitely something to celebrate. Happy hunting!