Camela & Chris's Reclaimed Family Farm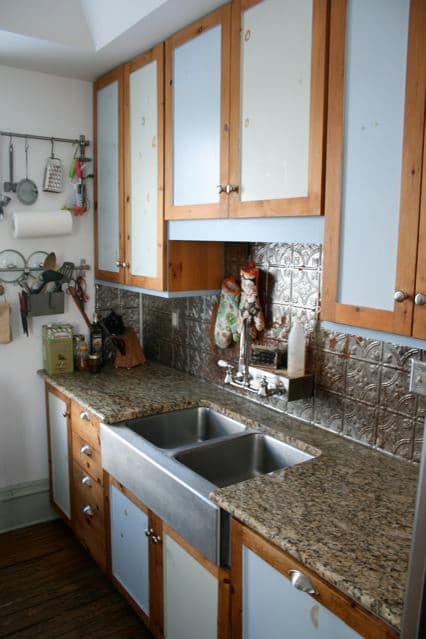 Name: Camela Decaire and Chris Klaeser
Location: Barneveld, Wisconsin
Size: Approx. 2000 square feet
Years lived in: 9 years
When Camela and Chris first saw the 100-year-old farmhouse in the rolling hills of Barneveld, Wisconsin—35 minutes from the state capitol of Madison—they knew it had potential. They were looking to fulfill their dreams of building a community-supported agriculture farm, and the classic farmhouse on 12 acres was just the kind of place they had imagined. Of course, their dreams didn't include a house whose current tenants were raccoons and whose living room was being used to store a dismantled horse barn.
The couple soon learned the house had been abandoned for 47 years, had no plumbing, heating or electricity, not to mention a woodchuck living in the mudroom. But the stone foundation and south-facing slopes won them over and launched them on a renovation of epic proportions. Living in a camper behind the barn for three months, the couple took the house down to the studs, reusing every bit of original woodwork and hardware they could—including trim, doorknobs, wall hooks, hinges, wainscoting, and wood floors. And they did this while holding down their full-time jobs.
They dubbed their new home Middlebury Hills, after a settlement that once stood nearby. When the house was livable, they began focusing on their goals for the farm, planting veggies, orchards, an herb garden, and a cutting garden. Today they also have bees, chickens, a greenhouse, and a hoop house for starting plants over the long Wisconsin winter (carrots and scallions were off to a healthy start the day of our visit).

Middlebury Hills practices sustainable farming, bypassing synthetic fertilizers, herbicides, and pesticides. While they currently generate enough solar energy to power a water pump and handle small electric needs (like the 5 crock pots that ran for 4 hours at a party for CSA customers), down the road Camela and Chris hope to power the entire farm with wind/solar hybrid electric. Meanwhile, their growing customer base includes locals as well as Madisonites eager to get their hands on produce picked just days before delivery.
Apartment Therapy Survey:
My/Our style: Eclectic modern country?
Inspiration: Camela: Growing up my family did a ton of driving, and I always looked at the abandoned farmhouses left in the odd spaces between highway constructions and wondered about them. (Who lived there? How did they get left? Does the last person just leave? Do they lock the door?) When I got a chance to save one, I couldn't stop myself. Plus I just had this vision of raising a family in the sunshine. I can't really explain it better than that.
Favorite Elements:
The wavy glass in our extremely inefficient windows.
The trim on our front porch. It's not a fancy house, but that trim is funny, complete with carrots in the corners!
The various mouse holes and other chewed-up bits of our interior trim. The animal record left in the trim is such a testimony to what this place has been through.
Our tin roof and the sound of the rain.
Favorite Green Element: Camela: The whole house. We could have torn it down and built new. We could have done away with all the interior trim and doors and hardware and windows and replaced them. Instead we kept everything we could. Chris: The orientation of the house seems to be set to maximize catching the sun when it shines. It's brilliant in winter and shady in summer. Whoever built our home was thinking ahead.
Biggest Challenge: Sadly, financing. No one wanted to mortgage this place. The banks considered it a tear-down at best. And the local fire department wanted to burn it for practice.
What Friends Say: You must have been nuts.
Biggest Embarrassment: Camela: Our gravel driveway. Both UPS and Fed Ex slid off of it before we had it redone. And Chris slid off, too. Chris: The time I was building shelves with my shiny new nail gun and nailed the shelves to the floor, immediately after Camela predicted that I would. The nails were too long.
Proudest DIY: Camela: Honestly, just getting started. Cleaning this place out and tearing out the plaster and lathes was a job that I couldn't see myself doing, but did. It was a huge accomplishment to tackle, much less finish (if we ever finish!). Chris: The basement ceiling height. In order for the ceiling height not to become lower when the basement floor was poured, I rented a jackhammer and dug a hole for our sump pump. I hauled buckets of debris out for days.
Biggest Indulgence: Camela: Even though it was a gift from my mother (who owns and runs her own restaurant) I'd have to say our kitchen stove. I designed the whole layout of the kitchen around that thing, thinking of it as our hearth. In fact, before the stove was in the picture, we thought about making what is now our laundry/sewing room a galley-style kitchen.
Best Advice Received: Live with the layout as is before starting to change it.
Best Advice You'd Give to Anyone Trying to Green Their Home: Do it yourself. Even if you don't think you can, or don't think you know how, try. It's true you'll see the mistakes you made forever, but they are what makes it special, too. And the pros make even more irritating mistakes! We wouldn't trade any of our less-than-par moments and work—they've become part of the heritage of this house.
Future Goals: The biggest plan floating around is getting wind/solar hybrid electric generated on farm. The solar panels would go on the roof of the lean-to; between those and a wind turbine, it could power the whole farm. We've also finally decided on one change to the original layout of the house: we will get rid of the second staircase that leads from the master bedroom straight to the exterior of the house. Then there's finishing the porch and the barn (we plan a loft space in there). Adding a pond and lots more trees...
Resources:
Landscaping: Camela: I spent the whole first winter planning things on graph paper with half a dozen gardening books around me at all times. It was funny, though—I thought I designed this huge garden, but as we've become accustomed to our space out here, it seems really small! We get nearly all our seeds from these companies: Johnny's Selected Seeds, Territorial Seed Company, Peaceful Valley Farm & Garden Supply, Baker Creek Heirloom Seeds. And we do use good old Jung's, too, whenever we can.
Appliances:
Stove: Viking Professional
Washer/Dryer: Kenmore Elite HE3T. They were the newest of the new when we bought them; we chose them because of the water and energy savings they offer.
Bathub, downstairs sink, and faucets: All recycled from a farmhouse down the road. The owners store many items they removed from their house up in their attic, and we were lucky enough to sift through some things. Our front door and laundry room door also came from there.
Hardware:
Cast-iron floor vents: Renovator's Hardware and Affordable Antique Bath & More had replicas to match the few originals we had.
Doorknobs: We reused all we could find, including a few that turned up in the garden! Where the herb garden is now, somebody at some point basically had a dump. Digging that up turned out all sorts of odd items (a shoe form, half a waffle iron, a car jack, bits of plates, little bottles, crockery, a child's pair of scissors). We kept it all!
Furniture: Mostly from antique malls, garage sales, and auctions. My dad has been bringing us old rocking chairs from all over the place for the porch.
Accessories: Primarily secondhand. But when we want inspiration, something modern to contrast with our older things, we make a trip to IKEA.
Lighting: All the lights are new—we installed a lot of ceiling fans. Isthmus Lighting in Madison was great to work with for selection and special ordered a great deal of stuff for us.
Tiles:
Backsplash: Pressed tin. We'd love to say we salvaged it from somewhere, but we bought it new. It looks just right for the house. It's also somewhat unintentionally rusting (we knew it would, just not as rapidly as it has), and we love it.
Behind stove and on floor in downstairs bathroom: Daltile, Home Depot
Bed: We have plans to build a headboard from some of the interior doors we didn't reuse, but that's not done yet!
Paint: Favorite is Benjamin Moore, but we used Sherwin-Williams and Mautz because it's what we could get locally. The sage green trim used throughout the house is an old Sherwin-Williams color: opal basil.
Flooring: All the wood is original. The wide planks are Douglas fir. The long, narrow planks that run the length of the kitchen are maple.
Other:
Laundry room cabinets: Ikea
Bathroom shelf: Individual drawer/shelves from Target were trimmed and butted end-to- end to make one long scalloped shelf.
Greenhouse and hoop house: FarmTek
Tractor: A 1940's Case and a smaller Ford
Various farm implements: Farm auctions. A lot of the things we need are small, so often they are the cheap leftovers from older generations.
Thanks Camela and Chris!
House Tour Text: Therese Maring
(Images: Therese Maring; Summertime images by Camela Decaire)