Can A Glass Desk & Acrylic Chairs Work Together?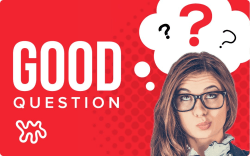 Q: My apartment unit has the original freight elevator door from the building's shoe factory days. It's so beautiful, and it's the reason I moved into this apartment, so I don't want to cover it up because it's like a work of art. I've lived here for over two years, and I've decided I really need a desk for the days I work from home. The only spot I really have for a desk, though, is in front of the elevator door. I decided that clear office furniture would be the way to go because it's functional, yet it won't block my view of the gorgeous door...
I already purchased an acrylic chair I like, but I'm taking my time with the desk. There are a lot of great options out there, but I have a tight budget. There are a few in my price range, some glass and some acrylic. I'm just wondering if I can pair a glass desk with an acrylic chair. I know they're both clear, but the pictures of all the glass ones seem to have a blue tint to them, but the acrylic furniture doesn't really appear to have the same blue tint, so I'm worried they might look funny when paired together. But maybe since they'll be against a black backdrop you won't be able to tell? Am I overthinking this? Any tips or opinions (or recommendations for your favorite clear desks) will be greatly appreciated! -Sent by Ashley
Editor: Ashley, if the freight elevator door is the reason you chose your apartment, it's also the reason I chose your question. It's amazing! I am officially jealous of your home office's brick walls, exposed beams, huge windows, and that incredible door. Readers, while I'm busy glaring at my regular old home office, please advise Ashley. Would you recommend combining glass and acrylic, or sticking to one or the other? Or do you have a totally different suggestion?
• Have a question for our community? Send us yours with a photo or two attached (questions with photos get answered first).