Can I Mix Whites in an All-White Kitchen?
Welcome to Wilsonart Wednesday! We've teamed up with the kitchen experts at Wilsonart to answer our readers' questions about kitchen renovation.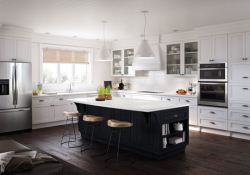 Q:
I've decided to go all white for my new kitchen. It seems like the big trend now, but I'm starting to worry that my whites don't match – the stove, countertop and cabinets are all slightly different whites. Okay or no way?
- Rich P.
A: Don't worry! Whites can blend. A room in all precisely the same color would look a bit clinical. And we're not going for spacecraft here. Here are our tips for blending whites.
Look carefully at some inspiration photos and you'll see that creamy whites and starker whites blend well. Make sure to consider varying texture and light, as well – that will help different tones of the same color work well together. You also may want to consider anchoring all that white with a darker stain on the floor or lower cabinets. But we think you'll be pleased with your white kitchen. Order samples of all of your materials and hold them together. You'll see how how you can make a bouquet of color with all those whites.

(Images: Wilsonart, Shutterstock)