Can I Renovate My Kitchen on a Budget?
Welcome to Wilsonart Wednesday! We've teamed up with the kitchen experts at Wilsonart to answer our readers' questions about kitchen renovation. We'll be posting the answers on Wilsonart Wednesdays all summer long, so ask your questions here and check back in for the answers!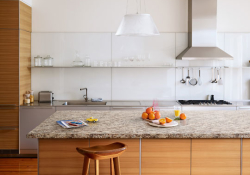 Q:
What are our options for financing a kitchen renovation absent a fat savings account or generous parents? - Charlotte G.
A: So you don't have financing for that next kitchen renovation? It's still possible to give your kitchen a new look without breaking the bank or refinancing your home. Consider the following tips from Summer Balzer, interior designer and former host of HGTV's Design on A Dime and Wilsonart's Design Team.
Determine the scope of the work: Is this a complete overhaul with new cabinetry, appliances and plumbing, or can you give your kitchen a new look with smaller projects that can be done incrementally?

Talk to a designer who can help you break down the project into smaller elements – cabinetry, counters, floors, paint and accessories and identify the 5 "must-haves" vs. "like to have." You may decide that you can live with existing cabinets and reface them or simply update fixtures, install a new countertop and backsplash and paint the walls a bright color to give the kitchen a lift for the fraction of a complete renovation.

DIY and Repurpose to save money – Save money by repurposing found items for your accents where you can. Frame pictures from favorite recipes, use inexpensive flowerpots or mason jars to store utensils and cutlery, repurpose an old console table as a center island. You might even want to spray-paint the old dining table and give it a new life! Look for salvaged floors, pallets, or pottery to create new furniture pieces or accents. This approach not only saves you money, but also makes your kitchen enviably unique.

Budget for the unexpected and look for eco-friendly options that may actually be a more green choice for you home and lighter on your wallet. Wilsonart Laminates contain 70% FSC(r) Certified wood fibers, contains a minimum of 20% post-consumer recycled content and meets stringent indoor air quality standards.

(Image: Wilsonart)