Can You Live in a Storage Unit?
We
independently
select these products—if you buy from one of our links, we may earn a commission. All prices were accurate at the time of publishing.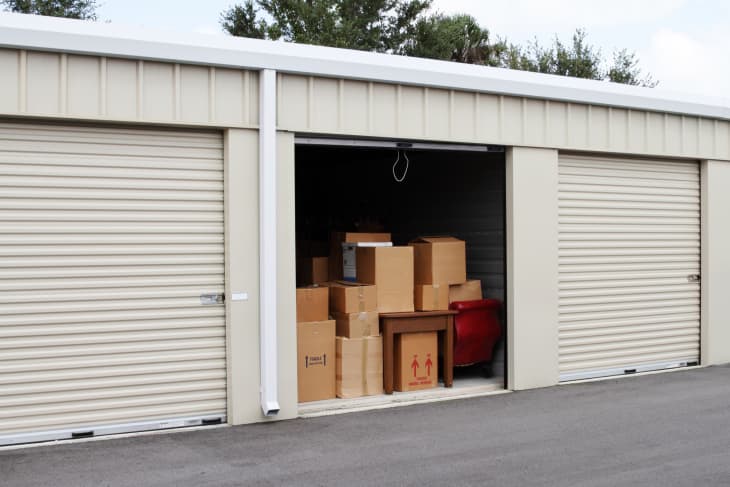 With the cost of living steadily creeping up, many people are trying to figure out ways to tighten their belts and save money. That can sometimes mean getting creative with an already shoe-string budget. Unfortunately for those hoping to solve their money woes by living in a storage unit, I have some bad news. 
Quick Overview
Can you live in a storage unit?
No, you cannot live in a storage unit. Living in a storage unit is illegal in every U.S. state.
So, is it possible to make a home out of a storage unit?
I spoke with numerous experts to answer this question, and every single one of them gave me the same answer: absolutely not. Living in a storage unit is not permitted anywhere in the United States.
"It's highly illegal and unsafe to live in a storage unit," says David Clark, a trial lawyer and partner at The Clark Law Office. "It is prohibited by both local- and federal-level housing laws. Aside from this, storage facilities make their tenants sign a contract, which includes a clause that states the tenant's inability to live in the unit, which follows a city ordinance." 
According to Clark, violators can face criminal charges or penalties that can cost significantly more than your monthly rent would. 
You've likely already agreed not to live there when you rented your unit.
According to Tanya Churchill with Storage of America, violations can also get your stuff booted from a storage facility. She lists her company's verbiage as an example of just how restrictive the leases can be when it comes to habitation. 
"It states in our lease that, 'Renter acknowledges that the Space may be used for storage only and that the use of the Space for any human or animal habitations is expressly prohibited, the Renter shall not live or sleep in the Space, nor shall animals be permitted to be stored in the Space. The storage of any food of any type, perishable goods or non-perishable goods, animal feed including seed is strictly prohibited.'" 
Not only are you prohibited from living in your storage unit, but so are your pets! 
You may not be the only unwanted overnight guest.
Storage areas are normally packed with a variety of materials, and some of those can be quite enticing to outside pests. "Self-storage facilities are frequently treated with agrochemicals," says Martin Boonzaayer, CEO of The Trusted Homebuyer, adding that if they aren't being treated, you'll likely have to deal with cockroaches, ants, and more. 
That means you could run the risk of dangerous levels of pesticide exposure by staying in your unit longer than you're supposed to, or find yourself snuggling up to sleep next to unwanted bunkmates. 
There is no way to escape in an emergency.
In 2019, a Fargo, North Dakota, man was killed when the storage unit he was living in caught fire. Clark cites this tragedy as one of the strongest cautions against trying to turn a storage space into your home. "Storage units aren't made to be lived in, which means there aren't strict building codes for them," he says, adding doors that lock from the outside, a lack of windows, and minimal ventilation as major health concerns.
While they may seem like a cost saving alternative to the high price of rents and mortgages these days, it's clear that the risks just aren't worth the rewards, especially when it comes to your health and wellbeing.