Can You Spot the Most Valuable American Antique?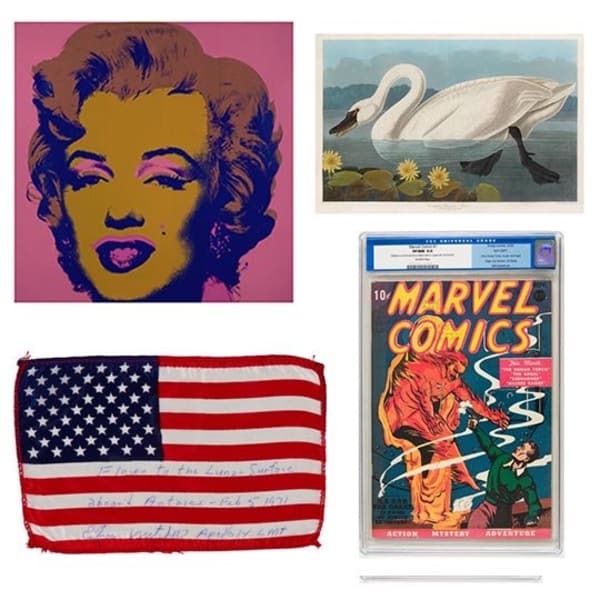 Here are four quintessentially American objects. While they are clearly very different items, they are all in good condition and sold at auction in the past couple of years. They also have one other really BIG variance - and that is in value (as determined by their selling price). If you were to come across these four priced equally at a flea market this weekend, which would you choose as the best potential investment?
Remember, you are looking for the most valuable item here — one of these sold for over $100k more than the others! Take a guess below and stay tuned. We'll share the answer later today.
1. Andy Warhol (American, 1928-1987) Marilyn, 1967
Color screenprint, 35-7/8 x 35-7/8 inches (91.2 x 91.2 cm), Ed. 167/250. Signed in pencil verso and stamp-numbered.
2. John James Audubon, Plate 411
Common American Swan. Aquatint from "The Birds of America," First edition engraving with original hand-color. Published by Robert Havell: London, 1827-1838.
3. Apollo 14 Lunar Module Flown American Flag
A 6" x 3.875" cloth U.S. flag that was carried aboard the Lunar Module Antares all the way to the surface of the moon on February 5, 1971, where it remained for more than thirty-three hours.
4. Marvel Comic Book #1
Marvel Comics #1 Pay Copy (Timely, 1939) CGC VF/NM 9.0 Off-white pages.
Good luck and thanks for playing along!