These Coasters Let You Sample 5 Candles Before Committing to a Whole Jar
We
independently
select these products—if you buy from one of our links, we may earn a commission. All prices were accurate at the time of publishing.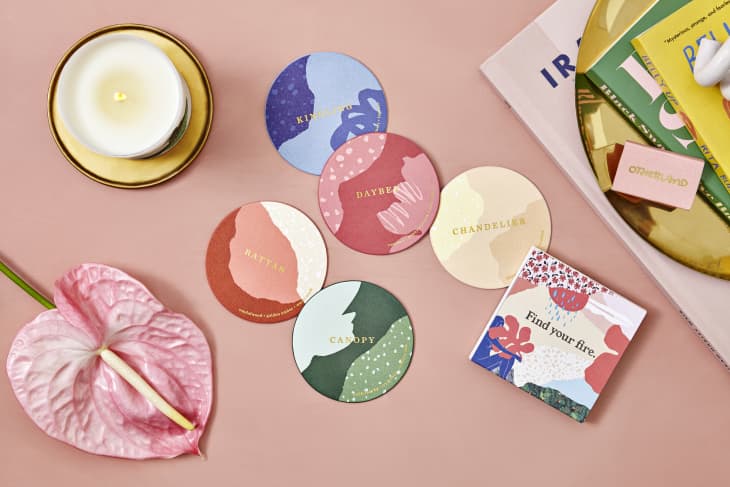 At this point, you'd love to take your favorite candles home where you can spend a little more time with them to better decide which one sufficiently suits your space (and your nose). The recently launched Scent Sampler from candle startup Otherland neatly nips this issue in the bud.
The Scent Sampler gives customers a chance to experience Otherland's best-selling Core Collection candle fragrances in the form of a scented coaster. For $5, Otherland will deliver the five essential scents to you in coaster form, obliterating the existence of (candle) buyer's remorse by making it easier for you to decide on your smell of choice.
Otherland CEO and co-founder Abigail Cook Stone offered Apartment Therapy some additional deets about the idea behind the inspiration for the Scent Sampler: "Knowing how difficult it can be to shop for your favorite scents online, we wanted to take the guesswork out of which scent is the most 'you,'" she tells Apartment Therapy.
"We know the future of home fragrance is visual-first, and our Scent Sampler is a fun, new immersive way to 'try before you buy,'" Stone says. "With art and design (my background) at the core of Otherland, we knew we wanted to create a product experience that was all about art, color, pattern, and design."
And if they remind you of a night out, that's intentional: "The Scent Sampler was inspired by my own habit of taking home memorable paper coasters from restaurants and bars," she says. "We realized that a coaster format, reminiscent of our candle lids, would be a completely unique product to infuse with our Core scents. After smelling them, you can throw them on your coffee table, put one in your gym tote or drawer, or share with a friend—it's a completely new way to discover your scent preferences in an innovative and stylish way."
The Core Collection (and the coasters) come in five fragrances: Canopy, Chandelier, Daybed, Kindling and Rattan.