Cara Delevingne's London Townhouse Has An Unusual Bathroom Feature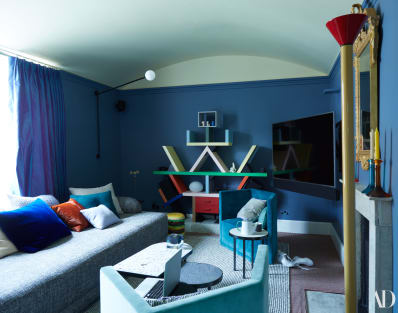 (Image credit: Skyler Smith)
If you're one of Cara Delevingne's 41.1 million Instagram followers, you'll notice that she's usually jetting off somewhere. That doesn't mean the 25 year old model didn't want a place to call her own when in her hometown of London—and just like her, it's the opposite of cookie cutter.
(Image credit: Skyler Smith)
Cara invited Architectural Digest to tour her historic townhouse in West London, which is traditional on the outside, and despite the high ceilings and beautiful molding, pretty much anything but inside.
Because of her hectic travel schedule, most of the design meetings with her designer and family friend, Waldo Works' Tom Bartlett, took place over FaceTime. "I remember doing one early-morning video call from bed in L.A. I was covered in [mood] boards and got the samples in a complete muddle," she recounts to AD.
The distance didn't seem to hinder the final product, which is totally Cara. "We wanted it to reflect the way she lives there," says Bartlett. "Like if you were a 25-year-old, it's about having friends around, going to sleep jet-lagged and feeling in a cocoon."
(Image credit: Skyler Smith)
The spaces are design forward, yet fun; the drawing room features the instantly recognizable Memphis staple, Ettore Sottsass' colorful Carlton bookcase paired with jewel tones and a custom George Smith sofa. The media room is a mix of lacquered purple and green duochrome car paint with a twelve-seater sofa for piling on. Even the bright white and wood kitchen has an unexpected twist: pink terrazzo counters.
The bathrooms aren't standard issue, either. Cara's master bath is wrapped in a whimsical cloud mural by Sarah Hocombe. But possibly the most interesting design choice of them all is that one of the guest baths features side by side toilets.
"I like a chat on the loo," Delevingne says, saying she got the inspiration from the ladies' room at the Crazy Horse cabaret in Paris:
Sadly, the slideshow on AD doesn't include the strange setup, but you can spy that dreamy cloud mural.
Check out more in the May issue of Architectural Digest.