Cara's "Have Less, Live More" Flat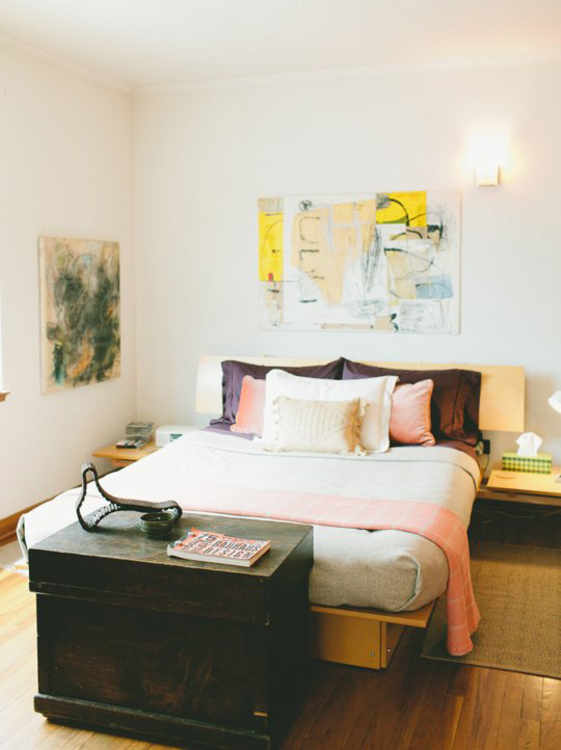 Name: Cara Hines
Location: Capitol Hill; Denver, Colorado
Size: 450 square feet
Years lived in: 3 years; Rented
A few years back, Cara Hines, a West Texas farm girl turned big city interior designer, writer, artist, and inspired vagabond, took drastic measures to create a new and better life for herself. Selling 95% of what she owned, she set out to start a life centered around simplicity. "One day I stopped myself and realized that my life was running me and not the other way around," she says, recalling a defining moment of clarity. Cara wanted a life that was more mobile and above all, a life with more freedom. So she set out, with determination, to create just that.
She searched for a new apartment with minimalistic yet historic qualities that could serve not only as a homebase, but also as a potential rental property while she was away on travels. She found the perfect blank canvas on which to display her interior design talent in a 450 square foot art deco studio apartment in Denver's Capitol Hill neighborhood. In keeping with the commitment to live a more simplified life, she decided not to have a television in the house. In its place she put an old metal cabinet filled with "big kid toys", as she calles them - Chinese checkers, sidewalk chalk, super soakers, and all kinds of adventure seeking gadgets. No microwave either. Nope! All a part of a regime defined by her vow to life a simpler, happier life.

Shortly after, Cara bought a 1966 Shasta travel trailer and was ready to wander and explore. Not ready to give up her apartment, she began listing it for a nightly rental on Airbnb with great success. Now her apartment is booked on average 90% of the time, and when it's not, she books it for herself. Her dear friend, Mignon Harris, has been integral to helping take care of the space and the guests. It's been a win-win for everyone. She and Mignon both make money and enjoy facilitating a positive experience for travelers. Airbnb was a game-changer for Cara, and one that spreads goodwill (and Goodwill) all around!
Cara's house perfectly reflects her way of life and not the other way around. Nothing in her home was bought brand new (except for the occasional trip to Tuesday morning for fresh sheets and towels); instead her home is filled with furniture and artifacts that all tell a story. "I consider time to be an element of design, and the only dimension that can imbue anything rusted, reused, or irreplaceable with its sublime and utterly inimitable patina." Cara says. How right she is! Anyone planning a trip to Denver anytime soon? I know you will want to stay at this place! Don't worry, the super soakers will still be here!

Apartment Therapy Survey:
My Style: Calming, eccentric, minimal, meaningful, playful.
Inspiration: Wabi-Sabi (i.e. driftwood, rust), a pinch of Italy and a dash of Japan, children's art.
Favorite Element: The original casement windows and east/south sunlight, all the original 1920's Art Deco elements, and no television!
Biggest Challenge: When I first moved into this apartment, I had more time than I had money. There were very specific items I wanted to fill express needs, and I hunted for them on Craigslist, at garage and estate sales, thrift stores, salvage yards, etc. Some of them were free. I succeeded in initially outfitting the apartment for under $1,000.
What Friends Say: "I feel so peaceful here!" They tend to talk more about how good they feel in the space rather than how good it looks. While beauty is important to me, it must grow out of an intention and the effect that energy has on its inhabitants. People seem to get that when they enter my space.
Proudest DIY: I built the table desk using old plumbing pipe and fittings and industrial wheels that I spent an entire afternoon digging through bins at a tool surplus store to find. The top is a solid core, unfinished wood door I bought at The Lumber Guy surplus warehouse, that I stained and finished. Things in a small space should have as many functions as possible, and I use this table for dining as well as my desk. The wheels allow me to roll the desk over my bed for working or watching movies on my laptop. I love it!
Biggest Indulgence: My bed. When I was a young designer in Houston and newly divorced, I asked our go-to millwork and furniture builder if he would create a very basic and inexpensive platform bed for me with my tiny budget of a few hundred dollars. He jumped at the chance to be creative, as I'd given him virtually zero design parameters. This amazing bed is what he delivered to me. It's worth hundreds more than what I was able to pay him, and at the time, it was a big indulgence for me.
Best Advice: 1) Choose your things wisely based on criteria and qualities that align with you. For me, I do not bring anything into my space without first carefully evaluating whether or not it is truly functional, meaningful, or inspirational to me. If not, I let it go. And I reevaluate my belongings periodically to keep clutter to a minimum. 2) Don't choose furniture, art, or other material things based on what you think others will think of them. 3) Your things are not worth what you pay for them, they're worth the value they bring to your life. Great design does not have to be expensive, and it should not tie up valuable resources (i.e. money, time, maintenance, square footage) you could otherwise spend on having and doing what inspires you.
Dream Sources: Estate sales, thrift stores, salvage shops and yards, nature walks, beach combing, and anything hand crafted by an artist, seamstress, furniture maker, metalsmith, or my niece.
Resources of Note:
ENTRY
Tibetan Bells and Prayer Beads - Tibetan Sisters Jewelry & Art
Rusted Ammunition Box - a barn on my dad's farm

Wooden Bowl (for keys) - Goodwill
Stone Remnants - a stone mason's yard in Northern Italy
Mirror - Queen City Architectural Salvage in Denver / came out of an elementary school restroom
MAIN ROOM
Custom Platform Bed - Built by a friend, Karl Muench of KVM Designs in Houston, MDF and curly maple veneer
Bedside Lamp, CD/Clock/Radio, Accessories - Goodwill
Mid-Century Wicker Chair - garage sale
Throw Cushions - various thrift stores and Tuesday Morning
Wool Bed Cover - sewn by Cara Hines
Rugs and Bed Linens - Tuesday Morning and Target
Depression Era Wooden Trunk - antique store in Houston, Texas
Rusted Drive Chain sculpture - a barn on my dad's farm that burned down, then sat exposed to the elements for months
Tall White Metal Cabinet - Garage Antiques in Denver
Striped Green Velvet Lounge Chair and Orange Vinyl Footstool - Craigslist ($15 for both!)
Floor Lamp - on moving day next to dumpster in my alley!
Art: Above bed, collage - by Denver artist Mary Mackey
Art: Next to bed, aged newsprint/charcoal/soft pastels/oil pastels - by Cara Hines
Art: Framed nude, pen and ink stipple - by Cara HinesArt: Above green chair, acrylic paint and collage - by Denver artist Mary Mackey
DINING ROOM / ART STUDIO
Table/Desk - custom built by yours truly using salvaged plumbing pipe, fittings and industrial casters (from Surplus Tools in Denver), solid oak door as top (from The Lumber Guy surplus warehouse in Denver)
Grey Metal Cabinet - garage sale
Chrome/Wood Armchairs - gift
Mid-Century Brown Vinyl Swivel Chair - Queen City Architectural Salvage
Mid-Century Yellow Desk Lamp - eBay
Accessories - various estate sales and thrift shops, dad's barn, nature walks and beach strolls
Art: Framed art print "Are You Happy?" - by Alex Koplin and David Meiklejohn at moodgadget.com
Art: Above grey metal cabinet, original oil painting - by Steven DeLair
Art: Large canvas, ongoing community art piece for guests to play on! Acrylic paints, paper, and adhesives provided
KITCHEN
Vintage Toaster - gift
Mid-Century Stacking Canister Set - estate sale
Mid-Century White Desk Lamp - Goodwill
Accessories - various estate sales and thrift shops, dad's barn, nature walks and beach strolls
Orange Bamboo Mat - Tuesday Morning
Art: Wire sculpture "Yes, I'm Happy" and "Tree" - by Cara Hines
BATHROOM
Rolling Cart - Goodwill
Bathroom Linens - Target and Tuesday Morning
Screen - salvaged bi-fold doors from Queen City Architectural Salvage
(Images: Kathryn Bacalis)
• HOUSE TOUR ARCHIVE: Check out past house tours here.
• Interested in sharing your home with Apartment Therapy? Contact the editors through our House Tour Submission Form.
• Are you a designer/architect/decorator interested in sharing a residential project with Apartment Therapy readers? Contact the editors through our Professional Submission Form.
Apartment Therapy supports our readers with carefully chosen product recommendations to improve life at home. You support us through our independently chosen links, many of which earn us a commission.