Caryn & Jared's "Bird by Bird" Collections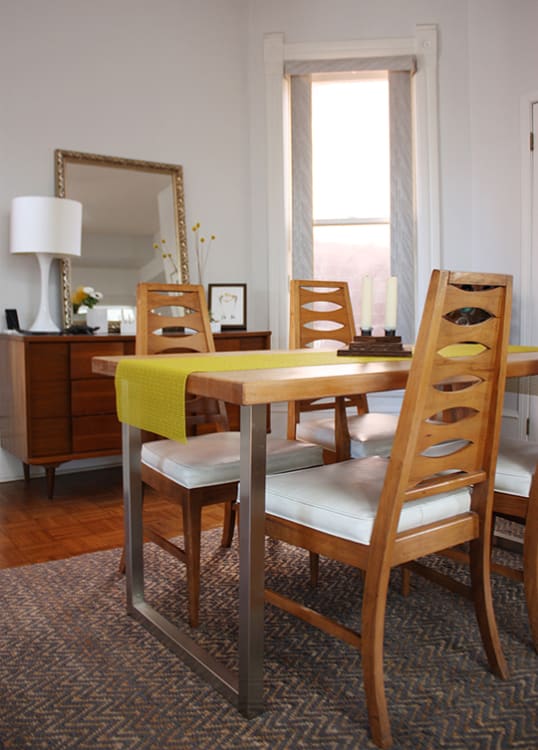 Name: Jared & Caryn
Location: Lakeview; Chicago, Illinois
Size: 1,000 square feet
Years lived in: 2.5 years; rented
Jared, who is working on a Ph.D. in African-American Studies, revealed to me his dissertation mantra: "Just take it bird by bird." Drawn from the writings of Anne Lamott, this saying suggests that when one writes, it's best to proceed one step at a time, focusing on the immediate task instead of getting bogged down by the big picture. This is excellent advice for writers of any ilk, but looking around Caryn and Jared's home, it also seems clear that taking it "bird by bird" is a great way to build an inspirational home full of truly loved objects.
When Caryn and Jared moved in together, they didn't have a specific design plan. They just each came to the table with pieces that had sentimental value, and the result is a light and airy home that's steeped in memories of their families, hometowns, travels, and ultimately, their life together. Few of the items here come without a legacy. For example, the butterfly patterned chairs belonged to Caryn's mother, the dining table is from Jared's childhood home, and the painting above the mantel was a gift from Caryn's grandmother, who carried it in on her lap for the duration of a road trip across Mexico in a VW Bug. For Caryn and Jared, almost every piece that they own is much more than an object; it's a concretized memory.
Every item may have a story (ones that Caryn and Jared will happily, and often humorously, impart), but together, all these pieces obtained "bird by bird" make for a unique home that tells a story of its own. The couple's apartment is a testament to their joint love of history, family, and photography (the hobby over which they bonded). A deep appreciation for handicrafts and creativity infuses the space, as can be seen in the many pieces of furniture that they have built or modified together. You'll also find myriad handmade objects around their home — a candlestick Jared made for Caryn and a painting Caryn made for Jared, to name a couple — that show their dedication to filling their home with pieces that matter.
Their style is eclectic, to say the least. Industrial pieces mingle with modern chairs, a mid-century credenza, and a coffee table with Queen Anne legs. But as a whole, the apartment feels perfectly cohesive, thanks to the way the couple have distributed their prized possessions. Like objects are collected into specific zones, as with the map wall, the library area, and the mantle, which holds their small mementos. Abundant plants energize the space, adding even more life to the already lively collection of memories.
Their maximalist love of storied objects is countered by an equal love of minimal, bright, and airy space. The open plan of the light-filled apartment gives each item plenty of space to breathe, ensuring that while the eye is constantly interested, it's never exhausted. A luminous, white bedroom, filled with only the essentials, serves as an inviting, hushed haven, and the well-organized office, painted in a soft gray hue, functions as an ideal writing retreat for Jared.
Having built this home city by city, year by year, and ultimately, bird by bird, the sum is much greater than any of its individual parts, and Caryn and Jared's apartment is just as warm, welcoming, and creative as its inhabitants.
Apartment Therapy Survey:
Our Style: Mid-century modern/vintage/other/sentimental hodge-podge with a little dash of Muppet chic!
Inspiration: The many creative and talented folks in our lives, and the cities in which we've lived. We stumble upon gorgeously designed places when we're out and about and come home overflowing with ideas. In Chicago, Senza, Trenchermen and Forget Me Knodt are recent examples. There also are a lot of cool things happening in the many beautiful shops in Andersonville and down on Grand Ave. And the Rebuilding Exchange is an amazing, amazing resource — it has both the goods and knowledge to get one started on any design project.
Favorite Element: The natural light, open space, and, of course the skylight. We're also over the moon about our library. In our last home (a small Brooklyn apartment) there wasn't much room to display our books — it makes us very happy to live among them. In general, we have tried to fill our home with things that have sentimental value, and it feels good to live in a space full of things we love.
Biggest Challenge: Affordable decorating, especially in a space we don't own. Also, when we first moved in together, we had very different styles and opinions about how to build our home. We had more than a few "lively conversations" in salvage shops, etc. Fortunately, in the years since, our tastes have grown closer together and we have both recognized that our different approaches enhance our living space.
What Friends Say: If they're from New York, they're slack-jawed and speechless about all of the space. Also, our friends are a bookish bunch, so many are enthusiastic about the library.
Biggest Embarrassment: Our Miami Vice-themed black porcelain and gold-fixtured bathroom. The previous tenant was the owner of the building and he remodeled in the mid-80's. It does, however, get us a lot of laughs. We also have the standard renters' woes with weird fixtures and other things that we can't really change.
Proudest DIY: The reclaimed wood shelves in the study. It's hard to tell by looking at them, but it was a very big project that we did on our own from sourcing the wood to restoring it and configuring the shelving. We also feel proud of our dining room table, which belonged to Jared's family when he was growing up. It was in rough shape, and we sanded and stained the wood and gave it a new set of legs. It's a piece with a lot of history, and we were excited to make it work in our home.
Biggest Indulgence: Framing. Also, abundant plants and fresh flowers. We may have an air plant problem.
Best Advice: Don't feel pressured to completely decorate your apartment in one fell swoop. Give yourself time to collect things you really love or that perfectly fit. Also, don't be intimidated by DIY projects just because you haven't done them before. We had no idea what we were doing when we started most of ours. One day we decided to stain some unfinished wood, the next thing we knew we were repurposing things left and right (and we're still total novices!). Once you break the seal and make a few runs to the hardware store your world really expands. There are so many great tutorials out there that provide a starting point and can help you get familiar with basic tools and techniques. It's really fun to make things!
Dream Sources: Any of the many folks doing beautiful things with wood/reclaimed wood.
Resources of Note:
ENTRY
LIVING ROOM
DINING ROOM
BEDROOM
BATHROOM
KITCHEN
STUDY
Thanks, Caryn and Jared!
(Images: Carolyn Purnell)
• HOUSE TOUR ARCHIVE: Check out past house tours here.
• Interested in sharing your home with Apartment Therapy? Contact the editors through our House Tour Submission Form.
• Are you a designer/architect/decorator interested in sharing a residential project with Apartment Therapy readers? Contact the editors through our Professional Submission Form.
Apartment Therapy supports our readers with carefully chosen product recommendations to improve life at home. You support us through our independently chosen links, many of which earn us a commission.