Casual Family Cottage: Get the Look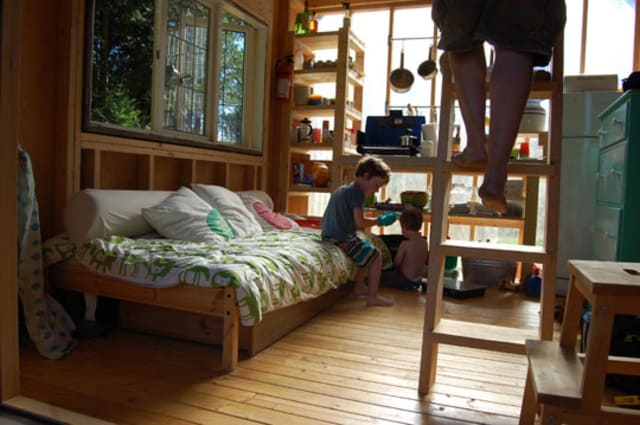 Writer and long-time Ohdeedoh blogger Tammy offered a popular and inspiring peek into how to live in a small space and furnish it comfortably on the cheap. Her 180 square foot cabin — built by Tammy, her husband, and a talented friend — appeared on Apartment Therapy last month. For those who saw it and have been dreaming ever since of setting up their own tiny vacation home in the woods, here's a quick source list to get you started.
Small Home Plans & Builders
With the popularity of the "tiny house" movement, there are a lot of planners and builders who offer everything from simple plans to complete contracting services. For a good full resource list, click here.
Just Sheds
With the help of a friend, Tammy and her husband built their cottage from $25 plans for the Californian shed. The company estimates the average cost to build at $9.75 per square foot in the Northeastern US, but costs can vary by as much as 25 percent.
The Tumbleweed Tiny House Company
Jay Schafer's company builds and sells sheds with a similar look and feel, and they're designed with lofted beds to save space. All of the houses can be used as a home or a weekend escape, and prices start at $38,000 for the smallest model.
Little House on the Trailer
Stephen Marshall designs and builds tiny homes on top of a flatbed trailer, then rolls them out to his client's site. Marshall custom designs each space and offers three types of structures up to 400 square feet — prices range from $45,000 to $65,000.
Furnishings
Tammy, her husband, and their friend Stefan took care of the built-ins and the ladder. The rest of the furnishings are inexpensive IKEA hacks or craigslist finds.
IKEA
Can you spot the IKEA items in the photo above? There's the Bekvam Step Stool, a solid wood classic that costs only $15, a Fjellse Bed ($30) hacked into a daybed, and an Aspelund under-bed storage box ($50).
Craigslist
This bright blue dresser is a cheery accent piece that also supplies most of the cabin's clothes storage. Tammy found it on craigslist, painted it, and added some new vintage knobs. For step-by-step project instructions, check out this post.
TINI Store
Tammy scored a couple of space-saving, Wegner-style folding chairs that she uses for collapsible seating on the deck. You can find similar versions at thrift and antique stores — this pair is currently available at Los Angeles-based TINI Store for $245.
Bedding and Accessories
A loft bed under the roof and a trundle bed on the floor provide sleeping space for 4 people in this tiny cabin, leaving bedding as one of the only major purchases to be made, along with some fuss-free kitchen things and a few vintage accessories.
Snugtuck
The bolster pillow on the trundle bed comes from Snugtuck, a company that makes cushions that act as safety bedrails for children. Pillows start around $40, can be ordered to fit any standard size mattress, and come in about 75 different fabric choices.
IKEA
In addition to some DIY pillows (made from old T-shirts), the cabin's bedding comes from IKEA. The green and white pattern is from their children's collection — the Barnslig Ulven line, starting at $17. (For more photos of the trundle bed pulled out to reveal extra seating space, click here.)
Etsy
For casual, colorful dishes that can stand up to daily abuse, check the vintage department at Etsy, where you can find unique and inexpensive sets. This set of 14 stackable tupperware mugs is currently available for $20 from Etsy seller needorwant.
To see the full tour of this home, click here.

Photo: Tammy Everts