Cat and Dog People: These Candles Are Made For You
We
independently
select these products—if you buy from one of our links, we may earn a commission. All prices were accurate at the time of publishing.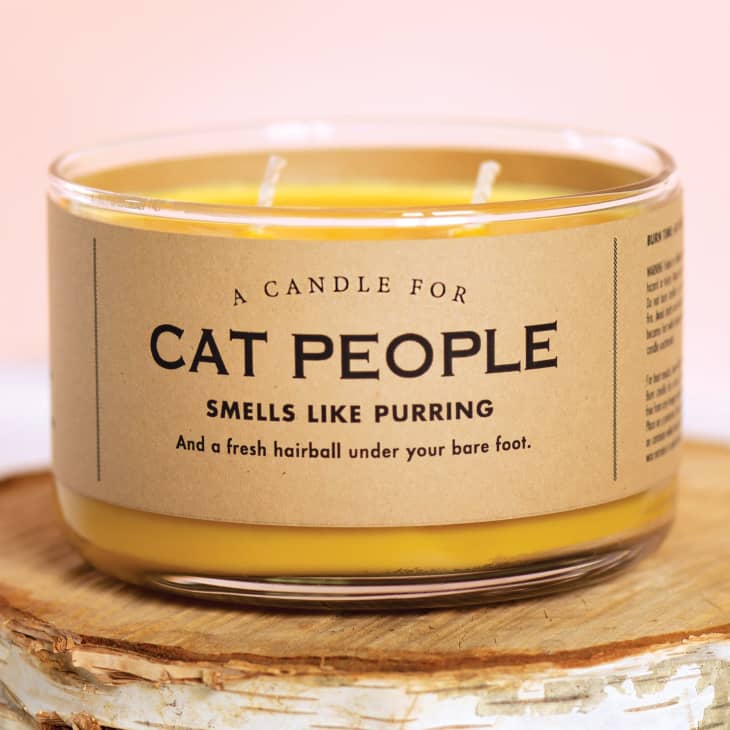 If you're a cat person (crazy or not) with a landlord who has a strict no-pets policy, it's really difficult getting your dose of feline friendship, especially in this pandemic wherein you could go days, if not weeks, without interacting with a cat.
Here's the purrfect solution. The Cat People Candle ($19.99) is a milk-scented candle that will make you "think of those soft tongues lapping at a dish of milk, sweet purring and biscuit making." The label also says that it's best for those who made an Instagram for their cat, keep lint rollers in their car, and hate dog people (that last one not necessary).
From Whiskey River Soap Co., the company that created the Fucking Meetings and Middle Child candles, this candle is made of soy, has two wicks, and will last about 60 hours which is more than enough time to make your entire apartment smell as though you own a dozen freshly-bathed kittens. Plus it's under $20, a bargain compared to getting an actual cat and buying it all the accessories it could ever dream of.
If pups are more your speed, you might be more interested in the Dog People Candle. This one smells like unconditional love, and will remind you of grassy dog parks, tails wagging, and slobbery kisses. It may not fill your Instagram Stories with goofy expressions and adorable trick videos, but hey, it's the next best thing. The candle is suited for those with a drawer full of embarrassing pet costumes and wet chew toys strewn all over the house.