CB2 The Selby Is In Your Place Contest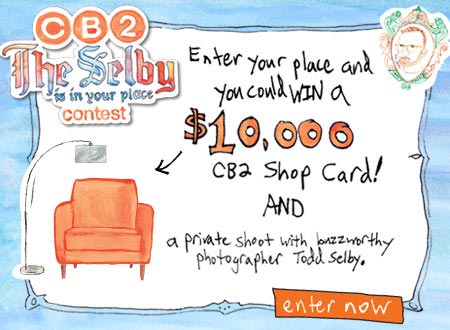 Is your space a Selby space? CB2 is holding a contest for the most creative space and Todd Selby is helping to pick the winners! Just in case you haven't seen him or his work in magazines like Vogue, Todd Selby is a portrait/interiors/fashion photographer and illustrator. His project The Selby offers an insider's view of creative individuals in their personal spaces with an artist's eye for detail. If you have a great place, enter it in the CB2 The Selby Is In Your Place contest and you could win $10,000 in CB2 merchandise and a private shoot with Mr. Selby himself!


Here's how it works:
Just submit three pictures of your most creative space, then hustle for all the votes you can. The top 50 vote getters will advance to the next round to be judged by Todd Selby and CB2 for their creativity and originality. One Grand Prize winner will receive $10,000 in cool CB2 merchandise and a private shoot by Todd Selby. Todd will feature this shoot on his blog, TheSelby.com. 18 other lucky winners will get CB2 Shop Cards to splurge on their habitats from $500 to $2,500, while the top vote-getter will receive a $2,500 CB2 Shop Card.
The Selby began in 2008 as a website, TheSelby.com, but has branched into other media including Todd's first book, "The Selby Is In Your Place." For more information on Todd Selby, visit his blog: www.theselby.com.
If you're looking to put a more personal stamp on your space, CB2 is always a great source for inspiration and cool, creative furnishings. Visit cb2.com for more information on CB2 affordable modern furnishings.
Comments have been disabled.