Celebrating Home: Heather Throws a "15th Anniversary in NYC" Party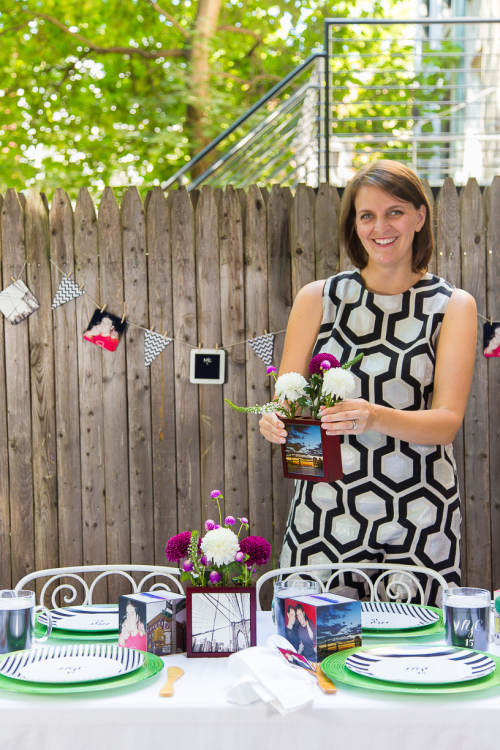 You remember moving to your city, right? Do you remember your first night there? The place you ordered in from three nights in a row because your kitchen was still in boxes? Your first apartment, which was perfect because it was yours?
Heather couldn't believe it, but she was about to hit her 15th anniversary of moving to New York. She lives in a different borough now, and has a husband and two kids, but her love affair with her city has remained a constant through life's many changes. Heather says she'll use any excuse to throw a party, but what better reason than her 15th anniversary of living in New York? We helped her customize her party decor at Shutterfly, and then came over to see her gorgeous party setup, including a very original use for coasters – can you spot them?
Heather's plan for her NYC Anniversary Party was a small dinner in her Brooklyn backyard for her family and a couple friends who'd known her when she first moved to the city. With her decor, she wanted to capture both New York sophistication and a little whimsical nostalgia. Using black and white as her backdrop, Heather used personal and NYC-themed images to create party decor on Shutterfly.
For table decor, Heather chose Photo Cubes, so she could display a bunch of photos at once. She pulled together some 15-year-old photos of her first neighborhood, and of her with her now-husband (they met at a bar in Sydney, Australia - how cool is that?). Heather also found some classic New York and Brooklyn images online. She combined these with pictures of her girls, since she planned on putting the Cubes on a shelf in their room after the party.
For the centerpiece, she took two Desk Organizers, customized them with beautiful photos of New York, and used them back-to-back as vases for simple blooms.
For the plates and cups, Heather chose complementary designs from Shutterfly, personalized with her little "NYC 15" monogram that she chose for the event. She layered these on her kelly green chargers and used bamboo cutlery to play up the picnic aspect of the party. For the napkin rings, she used ornaments, some customized with a photo of the Brooklyn Bridge and the others with a 15-year-old photo of her and her husband.
The tricky part was decorating her outdoor space for a party. She already had fairy lights overhead for when it got dark, but Heather wanted to find a way to 'dress up' the fence behind the dining table. She had customized a bunch of coasters with her old photos and New York pictures, and was trying to figure out where she could use them. Did you spot them in the photos yet?
Heather bought black-and-white chevron bunting to go with her color scheme, but felt that she wanted the decor to have more of a personal touch. She took the coasters she'd made and affixed them to the bunting using mini clothespins (she used the clothespins on the regular bunting, too, for consistency). Now the backdrop was as meaningful as the tabletop, all celebrating 15 years in her adopted city.
We love how Heather used Shutterfly to create party decor that was both stylish and meaningful. We can picture similar designs for a wedding anniversary, a big birthday or an informal rehearsal dinner. Have you ever celebrated your anniversary with your city?