Refined Industrial Modern Style
We independently select these products—if you buy from one of our links, we may earn a commission. All prices were accurate at the time of publishing.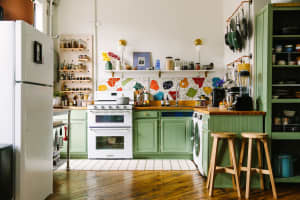 Can't-Miss House Tours Straight to Your Inbox
Keep up with our latest house tours each weekday with our House Tour of the Day newsletter
Name: Dave Widmer, CB2 eCommerce Brand Director and Chad Ross, Crate and Barrel Visual Merchandising Team Lead
Location: Andersonville; Chicago, IL
Size: 1,600 square feet
Years lived in: 2 years; Owned
Never hesitate to walk through a bright green front door: I promise you, only good things are waiting for you on the other side. In the home of Chad and Dave every last detail from the foundation to the roof and everything in between was meticulously thought about and designed. A delightful collection of objects, furniture and artwork populate the home, telling a personal story of two people who are imbedded into the fabric of their community.
This was definitely a highly anticipated tour, being that Chad and Dave both work for Crate and Barrel and CB2 respectively; I wondered if their home going to look like a catalog shoot. From the minute you step foot through the bright green door you get an overwhelming sense of warmth and hospitality. The light and airy openness to the entry matches the personalities of Chad and Dave. There is a quality about the entry that provides a very calm rest area before leaving or entering the home.
As you turn the corner you pass through another threshold that leads you into a wide open and sun-filled room. The seating area provides you with views of the dining room, kitchen and onward into the back yard. Neighbors pass by, waving to Chad and Dave while the dogs sound the alarm; and it is at this moment you realize that this is a very special place.
Traveling up the flight of stairs is an event unto itself. A Louis Sullivan terra cotta panel at the top of the stair is beckoning for you to come up. Once you arrive the hallway is wide and open, giving you little framed views of private quarters. Guest bedroom and bathrooms overlook the back garden while the master suite soaks up the southern light. Not to be forgotten is the charming movie room with a big screen TV and large Chesterfield sofa perfect for cozying up with a blanket and popcorn for movie night.
Chad and Dave began the tour with telling me about the journey they took while building their dream home. While listening to their amazing story of the banker who helped get them approved for the 203K Loan, the realtor who helped them find the condemned home perfect for bulldozing, and working side by side designing with an architect who just happened to be a dear friend, you come to realize it takes a community to build a home. Chad and Dave put so much thought, effort, sweat and love into building their dream home together that no matter who comes through that bright green front door you can't help but feel like family.
Apartment Therapy Survey:
My Style: We share a modern aesthetic. Dave likes simple, inviting modern design and Chad's style is refined industrial. We both like to mix in vintage, collected objects for some soul.
Inspiration: We draw inspiration from our really creative group of friends, Chicago architecture and fashion. Through our work at CB2 and Crate and Barrel we're also exposed to the latest design trends, new products and great resources. Our Andersonville neighborhood is another source of inspiration and it has become the destination for some of the city's best vintage housewares and home furnishings shops (see resources). And Dave is addicted to HGTV!
Favorite Element: Dave: My favorite element has to be the windows. We chose standard size windows to save money and grouped them to together in sets of three to create a modern, industrial look. I appreciated how the windows were positioned throughout the house and the way the light fills the house throughout the day. I also love that we can stand in the front yard and see all the way through the house to the backyard garden.
Chad: My favorite feature is the concrete floor on the first level. I love that the concrete gives the house an industrial vibe, the dark grey color allows our furniture to stand out, and that they are practical for our two dogs – Oscar and Wilbur. Plus this was the most economical material choice, which made Dave very happy.
Biggest Challenge: Our biggest design challenge was how to build the house on a very tight budget within the limits of our 203K renovation loan. This forced us to get creative with material choices and applications. For example, our bathroom tile budget was $4 / sq ft, greatly limiting our options. But we love a challenge and found a great modern tile that looks like a million bucks. We're really proud that we were able complete the entire house for $140/sq. ft.
What Friends Say: Most people ask us if this is one of "those green houses". While it isn't a certified green home, it is a small home with thoughtful material choices. And we have green front door (Benjamin Moore Perennial Green #405)!
Biggest Embarrassment: The hideous fire hydrant in our front parkway with faded and chipped paint. We put in a request with the city to paint it and have been waiting for over a year. At this point we're tempted to get night vision goggles and paint it ourselves under the cover of darkness.
Proudest DIY: As a way to stay within budget we designed and assembled all of our kitchen, bathroom and office cabinets ourselves. The summer our house was built we staged over 200 boxes in our garage and came over after work and assembled a couple of cabinets every night until we finished. Our builder handled the installation.
We also recently wallpapered both of our bedrooms with CB2's new line of self-adhesive wallpaper. It transformed both rooms. The best part is that if we ever decide to change things up, the wallpaper is removable.
Biggest Indulgence: We always dreamed of house with a yard that we could enjoy with our two dogs. Last spring with hired a landscape architect to design and install a garden. We now have a modern oasis right outside our kitchen door.
Best Advice: If you are considering building a home, think about a 203K renovation loan which covers the cost of the property and construction. You might be surprised that it is possible to build a small, stylish home on a budget, even in the city.
Dream Sources: Dave: A day of shopping New York City flea markets and with HGTV's Genevieve Gorder.
Chad: A long, low-slung outdoor firepit for our patio from Palaform (Robota line) that we can't afford.
Exterior – Iron Gray HardiePlank fiber cement lap siding
Front Door and Garage Door – Benjamin Moore Perennial Green #405
Interior Walls – Benjamin Moore Decorator's White CC-20
Mudroom – Benjamin Moore Chalkboard Paint
Flowers – Marguerite Gardens in Andersonville & the Crate and Barrel Floral Shop at the North & Clybourn store
Oil can collection – Roost in Andersonville. Plus our fathers contributed a few to the collection.
Floor chimes – CB2
Sofa – Crate and Barrel (Petrie)
Pillows – CB2
Coffee table – Scout in Andersonville (40th birthday present for Chad)
Brass peacocks – Dave "won" them on eBay!
Media console – CB2 (Chill)
Wall shelf – CB2 (Gunmetal Wall Shelf)
Mayor Richard M. Daley Illustration – Roost in Andersonville (Kenton Quatman)
Letterpress poster collection – Kennedy Prints!, CB2 and Las Manos Gallery in Andersonville
Vintage juggling pins – Architectural Artifacts in Ravenswood
Black Accent Chairs – Scout in Andersonville
Eames chairs – Room & Board
Dining table – Room & Board (originally it was maple and we painted it with white cabinet paint when we moved to the new house)
Console table – CB2 (Mill Console Table)
Brass candlesticks and grey tapers – CB2
Black pendant light – West Elm
Ganesha statue – A gift from very dear friends on our move in day to wish us success in our new home
Cabinets – IKEA (ABSTRAKT high gloss grey)
Island butcher block countertop – O'neill Products in Pilsen
Island Pendant lights – Y Lighting
Barstools – Scout in Andersonville
Wooden spoon collection –gifts from our friends who buy us wooded spoons from their travels … we've almost filled an entire drawer.
Desk chairs – Architectural Artifacts in Ravenswood
Desk lights – Ted Harris at Scout in Andersonville (they were foot lights at an old theater in a former life)
Modern wooden house on desk – Alapash Home and Terrariums in Ravenswood
"The best way to predict the future is to create it" postcard on Dave's desk – Owen & Fred
Glass paperweight – handmade by Chad in a glass blowing class at Chicago Hot Glass in Humboldt Park…on one of our first dates (no pressure)
Shelving – Dave's parent's bought at an estate sale from and school house library in Ohio with tags such as "Geography", "Revolutionary War" still in place
Bench – from a German biergarten table bought at a friend's garage sale
Cabinets – IKEA (GODMORGON high gloss grey)
Vintage Chicago Photography – Chicago Historical Society photo archive
Terrarium – Alapash Home and Terrariums in Ravenswood
Metal "Dave & Chad" letters – Brooklyn Flea Market
Buddha – a flea market find on a trip to Tokyo, Japan
Teak bath accessories – CB2
Powder room mirror – originally from a Loyola University science building purchased from Roost in Andersonville
Bench – Scout in Andersonville
"Found, Free & Flea" book – Tereasa Surratt
Artwork – CB2 (Editions)
Pendant light – CB2 (Satellite)
Buddha – from trip to Bangkok, Thailand
Reproduction Louis Sullivan panel from Auditorium Theatre – Chicago Architecture Foundation
Bed – IKEA
Throw pillows – neon stripe pillow (CB2), Dave's mom made the Edgewater Beach Hotel pillow from a blanket found on eBay
Bedding – Plaid wool blanket from Ace Hotel store
Wallpaper – CB2 (Orbit Large Black Self-Adhesive)
Vintage Chicago architecture prints from eBay
Side table – CB2 (Smart side table)
Side table lamp – Ligne Roset (Pascal Mourgue)
3D Panda artwork – CB2 (Matthew Lew)
Vintage Marina City bourbon decanter – Randolph Street Market
Bed – Crate and Barrel (Tate)
Throw pillows – CB2
Bedding – Olive wool blanket Room & Board, pinstripe sheets – unison
Artwork – Michael McGuire at Las Manos Gallery in Andersonville
Wallpaper – CB2 (Orbit Small Metallic Self-Adhesive)
Side table – CB2 (Smart side table)
Vintage framed Edgewater Beach Hotel postcard – eBay
Music case side table – Cases2Go (Anvil style)
Side table lamps – Ted Harris at Scout in Andersonville
Dresser – CB2 (Latitude Low Dresser)
Nelson Bench – Room & Board
Rocker Chair – Blu Dot
Sofa – Restoration Hardware (Kensington Collection)
Pillows – CB2
Bookcase – CB2 (Industrial Metal Wall Mounted Bookcase, 2)
Hardy Boys book set – Roost in Andersonville
Gold pig bookends – CB2
Gold candle sticks & grey tapers – CB2
Stools / Ottomans – Blu Dot (Turn Stool)
Vintage "hunky guy" bourbon decanter – Roost in Andersonville
Floor lamp – Crate and Barrel (Melrose)
Mid-century media console – a garage sale score from our neighbors!
Planters – CB2 (Oscar)
Chairs – CB2 (Sawyer)
Table – German biergarten table bought at a friend's garage sale
Buddha & Fountain – Gethsemane Garden Center in Andersonville
Architect – Scott Delano
Realtor – Joaquin Calle, @properties
Builder – Synergy Construction Group, Tony Alessi and Chris Meno
203K Renovation Financing – Guaranteed Rate, Chris DePaepe
Landscape Design – Mimi McKay, McKay Landscape Architects
Landscape Implementation – Nathan Wright, Nathan Wright Landscape (softscape) and Patch Landscaping (hardscape)
Modern horizontal fence – Advanced Fence & Gate, Todd Kopke