CHI Good Questions: Help! Lost the Bathroom Floor!
OH MY…we got this email from Laura: "OK, I'm asking all comers for some help here. We had an incident this weekend, and as a result we no longer have a floor in our only bathroom. This will require some lightning speed decisions on our part and is unfortunately one of those "well, if you're replacing the floor, you might as well replace the toilet and the tub and the fixtures and the lighting…" it has suddenly meant we are gutting and redoing our entire loo."
In a panic, I nearly bought all the necessary pieces from Lowes and Home Depot yesterday, but my peach of a husband managed to talk me down and we didn't get anything that we didn't need at that very moment (like subfloor. sucks to suddenly need subfloor.).
Background on our bathroom and us – typical 5×6 bath, tub, toilet, sink. The picture is (obviously) from before the floor gave up its ghost. Nothing can be reused by us – it's all in bad condition. We had accumulated a few things for when we finally redid the bath, so we do already have a sink from Habitat Restore and towel bars in nickel.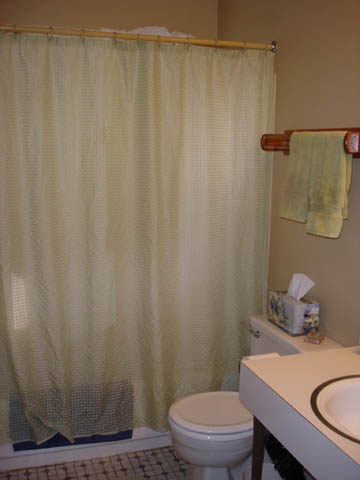 That's all. We anticipate that we'll only be in the house for a couple more years, and due to it's location, dropping tons of cash on it will NOT increase it's value much – so we'd rather not. Ideally, we'll do the whole thing for under $800. Most of the time we buy "antique"
furniture and are likely to chop things up and reuse them. We like colors, but I'd rather have a base of white for things that can't be easily replaced (like tile). We are our own construction crew, with the occasional sibling, parent or friend helping out.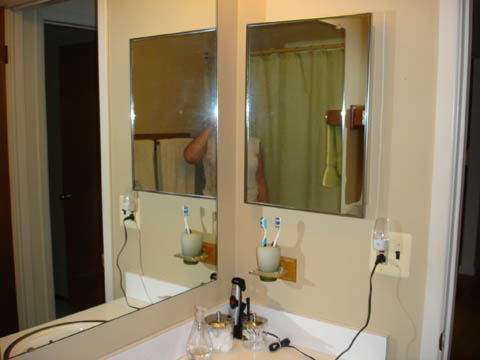 Now, my questions are…
Good online or metro Detroit sources for tile that isn't whack expensive? I think we'd like to do a small white hex tile on the floor, and we're still considering what to do about the tub enclosure walls.
Any ideas for a vanity that isn't a particleboard thing from a big box store? I'd love to see some creative ideas for reuse – I recall having seen some in the past, but wasn't paying a lot of attention since I didn't need to be.
Why are shower curtains so ugly? OK, that's not really the right question, but that was how I felt looking around yesterday. If you've seen a beautiful shower curtain with some color (maybe yellow?) but not overwhelming, I'd love to see it.
I'll take any other advice, really. Or sympathy. Sympathy's nice.
Laura, you have our sympathy…suddenly not having a bathroom floor must rank up there pretty high on the list of un-fun things to have happen…and we are hoping for lots of good advice for you, so here we go: sources, ideas, advice, comments and sympathy all accepted in the comments below!
Published: Jan 17, 2008