Chip and Joanna Gaines Just Announced Baby Number 5's Name—And It's a Big Break From Tradition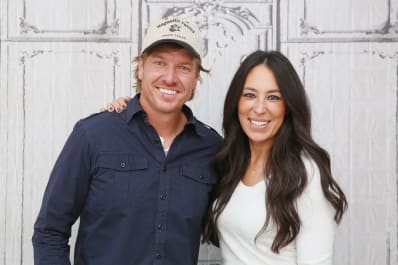 (Image credit: Mireya Acierto/Getty Images)
HGTV's very own royal baby arrived Saturday—former Fixer Upper stars Chip and Joanna Gaines announced the birth of their fifth child. And now we have a name: Crew Gaines has officially joined the, er, Gaines crew.
Mom Joanna announced the name in an Instagram post on Saturday night, writing: "Our baby boy, Crew Gaines, is here and we couldn't be more in love. He made an unexpected (and speedy) entrance into the world two and a half weeks early - which is fitting given he was a sweet surprise from day one."
The name is a break in tradition for the family—their two daughters both have names that start with E (Ella and Emmie) and their two other sons both have names that start with D (Drake and Duke), prompting months of speculation that baby boy Gaines would get a D moniker.
But dad Chip (another C name) might have given fans a bit of a clue earlier on Saturday with his own announcement:
And then there were 5.. The Gaines crew is now 1 stronger! 10 beautiful toes and 10 beautiful fingers all accounted for, and big momma is doing great! #blessedBeyondBelief

— Chip Gaines (@chipgaines) June 23, 2018
Yes, he did say crew.
According to the Social Security Administration, the male name Crew was ranked 712 in popularity in 2017 (with 339 babies receiving the name). Its peak in the last seven years was at 685 in 2014. Nameberry.com reports that the name became popular when Young and the Restless star Joshua Morrow chose it for his son.
Time will tell if the Gaines effect will make Crew as popular of a name as, say, the couple made Shiplap in homes. In the meantime, here's a photo of the Gaines family waiting to welcome their newest family member: