Chrissy Teigen's Home Classroom Is Goals—And It's Surprisingly Easy to Recreate
We independently select these products—if you buy from one of our links, we may earn a commission. All prices were accurate at the time of publishing.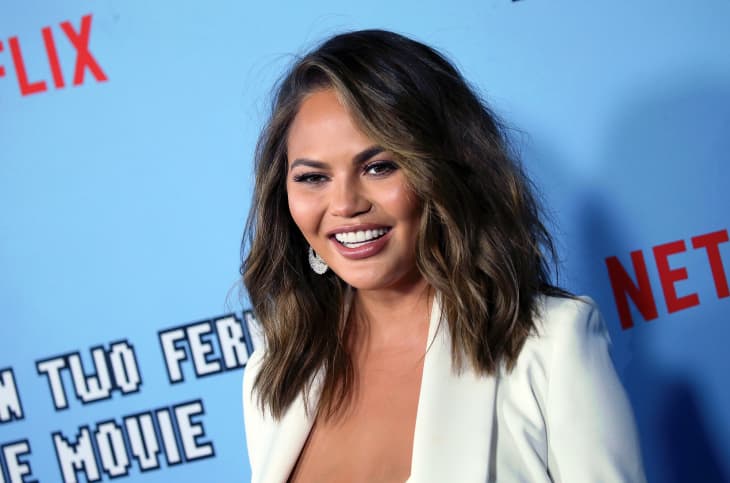 Like so many parents across the country, Chrissy Teigen is getting ready to homeschool her two children, Luna and Miles. To ensure they get the best school-like experience while learning at home, Teigen decorated an entire room to look just like a classroom—cubbies, worktables, and rolls of colored paper included. And although most can't go as big as Teigen did, a lot of her at-home classroom decor ideas are surprisingly attainable. 
Teigen tweeted photos of her newly designed learning space over the weekend, which her followers were clearly impressed with judging by the number of likes she received. "Everyone get ready for …. miss chrissy," Teigen, who is expecting her third child with John Legend, wrote. "Pregnant and here for it (I really have always wanted to be a teacher!)."
Teigen showed off multiple pictures from inside her makeshift classroom. Right in front of the book wall reading area sits the "soft rocks," which are rock-shaped pillows for kids to throw around and release energy with, without worrying about scrapes.
WOWMAX Stone Pillows
You can assemble your own cozy soft rock reading nook with pillows from WOWMAX that are sold on Amazon. The stone pillows set includes six rock-like pillows in different sizes that kids (and parents) can climb on without fear.

Buy: WOWMAX Stone Pillows, $136.95
Teigen also tweeted a photo of her kids getting nice and cozy inside the installed cubby area where (hopefully) coats, shoes, and lunchboxes will eventually live.
ECR4Kids Birch School Coat Locker
And, as a staple in the classroom, Teigen even purchased a rack of four spools of colored craft paper that she called "this god forsaken thing I thought was smaller."
Art Street Lightweight Construction Paper
Even if you can't dupe the at-home classroom, Teigen herself will tell you that any space where your kid can learn—no matter how big or small, decorated or sparse—is perfect. She also vowed to fulfill Amazon wishlists for teachers headed back to school amid the pandemic.
Whatever decorative direction you choose (or lack thereof, let's be realistic—this whole thing is hard enough without redecorating), we're wishing you a safe and healthy school year.