Chrissy Teigen Shares Who Used to Live in Her House in Vogue's 73 Questions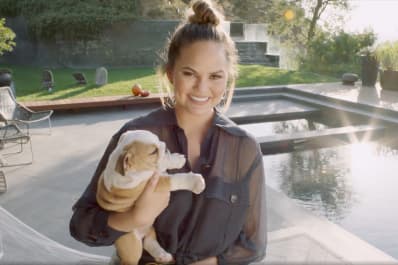 (Image credit: Vogue)
In Los Angeles, it's not surprising how often famous people swap houses (and quite a few of them lead back to Ellen, if you're keen to play six degrees of celebrity real estate). So who used to live in Chrissy Teigen and John Legend's current pad? The model, Lip Sync Battle star, and cookbook author reveals the fabulous former owner in her installment of Vogue's 73 Questions this week.
Chrissy's baking her Twitter-famous banana bread when Vogue arrives, and the house is decked out for Halloween. Though she won't reveal what Luna is dressing as for the holiday ("it's a secret," she says), she does reveal that her favorite costume that she's worn is Toddlers & Tiaras (here she is back in 2011).
As for who used to live in her modern Beverly Hills manse, that'd be none other than pop diva and Fenty Beauty creator Rihanna. Chrissy and John Legend bought the place back in January of last year for $14.1 million. (Riri, on the other hand, has moved to West Hollywood.)
While John's currently touring, we do get to see adorable pup Pablo and baby Luna (who thoughtfully shares her Halloween candy) during the 73 Questions.
Check out the full video below for more peeks into the home than you usually get on Chrissy's ever popular Snapchat.