Christi's Nature-Inspired Echo Park Home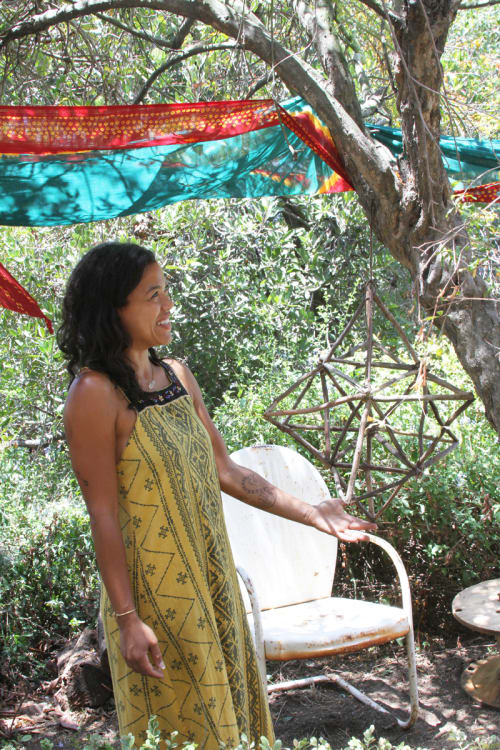 Name: Christi Jay - artist/designer
Location: Echo Park; Los Angeles, California
Size: 800 square feet
Years lived in: 2 years
Christi is a fashion designer who also has a genuine talent for making beautiful sculptural artwork. Christi created the geometric piece on the living room coffee table from branches from her backyard. You might also notice a few other more of her designs in the same room that she uses as plant hangers.
When Christi was looking for a place to rent she found a listing on Craigslist that had no photos and just two sentences describing the place - "One bedroom with yard, close to Elysian Park. Dogs and cats ok." I don't know how she sensed that the place would be a major find from that limited description, but once she arranged a tour and saw the yard, she was sold before even seeing the interior.
Apartment Therapy Survey:
My Style: My style is as mixed as my personal background. I love to pull elements from a variety of different cultures and have them exist peacefully in unison. It's always soulful, sometimes primitive and raw, sometimes bright and elaborately decorated.
I love aged wood, geometric patterns, old yellowed books, and anything that feels like it's steeped in history. I generally steer clear of anything that could be described as 'sleek' or 'modern,' and I'd choose dark brown and ivory over black and white any day. This makes picking out electronics or appliances practically impossible!
Inspiration: The most important part of my home is the outdoor space; I absolutely love having access to my own little forest. For the living room, I wanted it to feel like an extension of the backyard, a place where I can be safe from the elements but still enjoy the outdoors. Lots of green plants and twigs and not having curtains really helps! The African masks and mudcloth fabrics really speak to the raw and geometric nature of my art, and having my workspace in close proximity to all of this (with a great view of the backyard!) keeps a healthy creative flow.
The rest of the house draws from different sources of inspiration. Growing up, my mother always decorated each different room with a theme (at one point our living room was Santa Fe style with trompe l'oeil windows and my bedroom was a underwater theme — dolphins, killer whale murals and all!), so I've adopted that technique, but with much less 90's sponge painting. My kitchen is more soulful — I like to keep things that remind me of my family and make me happy. Food made with love is the best medicine, so I try to keep my kitchen full of love and joy. The bathroom is like a Mexican desert, with the same style adobe incense holder my mother had in our Santa Fe living room, and the bedroom is made for Technicolor dreaming.
Favorite Element: Besides the outdoor space? I'm so charmed by the antique doorknobs, from crystal to Bakelite, all through the house, and the windows that open from the top or the bottom had me enchanted for months after moving in. Everyone that would come over would get the tour that included "And look!! The windows open from the top AND the bottom!!" like it was a brand new piece of technology or something.
Biggest Challenge: I'm a scavenger, so I tend to over collect and end up with items that I love, but they just don't match. So I'd say the fact that I don't have enough space to have everything I love included is my biggest challenge!
What Friends Say: That my place looks like my art, which is good because it's mostly made up of my art. They all want me to get a pool too. I'm working on it, but I get the feeling a DIY pool may not be up to code…
Biggest Embarrassment: The tiles on my kitchen counter! The person who lived there previously did quite a number on them and they constantly look dirty.
Proudest DIY: I made a triangular incense holder out of metal, but it looked so out of place on a square table, so I made a triangular table with legs from twigs gathered in the desert. Stability is definitely not its strong point, but I really love the raw look of it (and it was the first project completed with my table saw!).
Also, the 'lamp' in my bedroom — a mix of a deconstructed IKEA light fixture, a thrifted lampshade, and a twig from the backyard.
Biggest Indulgence: My garden! It started out overgrown with a wide variety of weeds, and bit by bit I've been improving its appearance. It's a slow process, but whenever I can, I like to bring home a few new plants. I love the discipline of it as well — if I don't tend to it every morning, I can't enjoy its beauty.
Best Advice: Let it go. Get rid of it. You have too much stuff! Thanks to my good friend Faye from you are the river (she's my unlikely interior consultant, quite the minimalist!) for these wide words.
Dream Sources: Turkey, Zimbabwe, India, Uzbekistan… A little more locally, I love REVIVAL in Highland Park, General Store in Venice, and there are some great vintage shops in Long Beach off of 4th Street.
Resources of Note:
LIVING ROOM
Key lime paint
Coffee table and bookshelves from Beit T'Shuvah Thrift in Culver City (dangerously close to my work and they always have good quality solid wood options)
Twin chairs from an old neighbor
Rolling desk chair from the side of the road
Vintage mudcloths from Fairfax Flea Market
Masks from Revival in Lincoln Heights and the Long Beach Flea Market
Most other hanging pieces are my own artwork
Work bench from good old Home Depot
Wine crates from some guy in Mar Vista who I've found on Craigslist more than once
Plants from Rolling Greens in Culver City and Echo Garden Nursery (which is now in Highland Park)
DINING ROOM
Personal photos
Art from my grandfather
Mekenzie Schneider
My personal art
Botswanian baskets from a very sweet man at Culver City Farmers Market
Chairs from the side of the road
Dining table from Goodwill
KITCHEN
Mostly just random thrift store finds
Salt and pepper shakers from Fifth Floor in Chinatown
A few crystals from Yogala in Echo Park
Handpicked sage from a retreat in Jacumba
Incense from Dream Collective
Tequilla bottles from House of Spirits (emptied with a little help from my friends!)
BEDROOM
Bedside table is a palette I found on the side of the road
DIY lamp
Thrifted decorations
Hanging tapestry from Long Beach Flea Market
Throw pillows handmade from some thrifted caftan
Tapestry on the bed from General Store in Venice (if I had the budget, every tapestry in my house would be from there!)
Thanks, Christi!
(Images: Marcia Prentice)
• HOUSE TOUR ARCHIVE: Check out past house tours here.
• Interested in sharing your home with Apartment Therapy? Contact the editors through our House Tour Submission Form.
• Are you a designer/architect/decorator interested in sharing a residential project with Apartment Therapy readers? Contact the editors through our Professional Submission Form.