5 Hacks for First-Time Christmas Tree Buyers (and Last-Minute Decorators!)
We independently select these products—if you buy from one of our links, we may earn a commission. All prices were accurate at the time of publishing.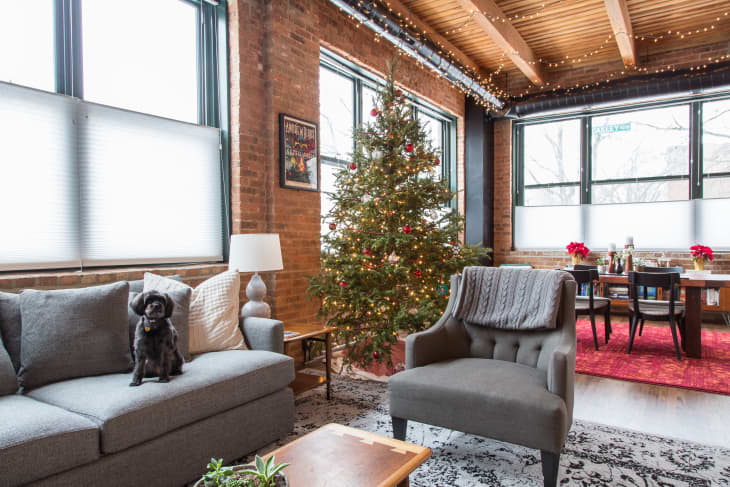 The holidays are going to look a little different this year, so there's no better time to start a few new traditions. Maybe you'll be celebrating Christmas (if you celebrate it at all) without traveling home—or anywhere, really—for the first time. So this year, you're ready to take on your very own tree. The good news is it's not too late to set up something special and festive. Whether you're a traditional red and green person or love a good personal theme, you can find ornaments and decor out there that will speak to you.
Even better, you don't have to go at trimming the tree alone—blogger and HomeGoods partner Jenny Reimold has a whopping nine trees in her Nashville home (one for each member of her household… check out a third of them below!), and she shared her best time- and money-saving decorating tips with us. With these ideas, you'll hopefully actually enjoy decorating your tree, whether real or faux, and be less stressed out by the process.
Follow Topics for more like this
Follow for more stories like this
Tackle the top of the tree first
While it's an unconventional method, Reimold doesn't save her tree topper for that last finishing touch. Instead, she starts her decorating process with this crowning feature, which helps her determine the scale and proportion of what ornaments and trim will follow. "I'm also a big fan of using an alternative topper that ties into your theme," says Reimhold. Try faux greenery, a retro holiday figurine, or even a disco ball. There's no rule that says you have to use the typical angel or star.
Work from the inside out while you trim
Next, Reimold recommends setting your foundation with lights and garland by alternating strands of each throughout. One note to all first time-tree buyers: Artificial, pre-lit trees will make your decorating process—and life—easier. If you have the room to store one and don't mind faking that fresh pine or balsam smell, you might want to go that route. You'll save a lot of time not having to detangle strings of lights. Whether you're working with light strands or garlands, Reimold's process for placement is the same. "Start from the top, as far in as you can, then work back out along the edge [around the tree and down to its base] for an extra bright and textured foundation," she says.
Vary your ornament options
The more sizes of ornaments you have to decorate with, the prettier and more visually varied your tree will look, whether you stick to a tight color scheme or not. "Stuff larger ornaments toward the inside of the tree then place small, round ornaments along the outside," says Reimold. This will help to create balance and fools the eye a bit, since the smaller pieces will actually look bigger because they are closer to viewers. Another argument for going faux with your tree? Fake branches and needles are actually sturdier than real ones, so you can go a little bit heavier on the ornaments. Your tree will look fuller!
"A fool-proof finishing touch is to stick faux individual sprigs of branches like frosted berries, holly leaves, or white flocked and glittery pinecones in with the 'natural' branches to fill in holes and to create an even fuller look," says Reimold. "They require no wire or hooks, so are an easy way to finalize the tree and make it picture-perfect." Bonus points if they echo your tree's topper, as shown in Reimold's tree here.
If you're a first-time tree decorator, buying your tree and all of the trimming accoutrements at once can be expensive, so look to make strategic swaps where you can. One example? Skip the tree skirt and fake it with a spare blanket instead. All you have to do is wrap the base of the tree in your blanket, says Reimold, and then secure it with a clothes pin or hair clip in the back. No one will know you've MacGuyvered the skirt, but if you want a little more festiveness, add presents—again, real or fake—to style out a full, under-tree vignette.