Chronicle H&G Roundup: 04.22.06
The Chron went all out for Earth Day this weekend, with articles on a cutting edge eco house in Noe, the state of the art of recycling, gardening without a garden, and the city's most colorful export: discarded paint.
At $350 a square feet (to build), this house certainly doesn't herald the era of accessible green residential development. Still, the job of people with means is to push the envelope, so it's good to know these folks are pushing it in a green direction.

Trash can have a 2nd life: Amazing that 90% of our trash is recycleable, if we only were to separate it out properly. This piece, fom Alison Rood, contains a useful checklist for consumption: "Do I need this? Do I already have something like it? What will I do with this when I no longer need it?"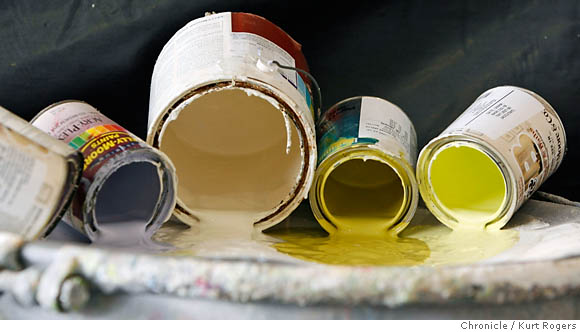 Leftover paint from S.F. brightens towns far away: The interesing thing is that our colors are too dull for the people in the countries where we donate them (Mexico, Mali, China and Laos), so the recycling plants first have to remix them into happier shades.
No yard? Grow great veggies in containers Really useful info about how to grow a vegetable garden even if you all you have is a window sill. Both the "how to" and the "what to," from Bay Area garden blogger Pam Peirce.
Published: Apr 24, 2006