Classic Wallpaper Pattern: Chinoiseries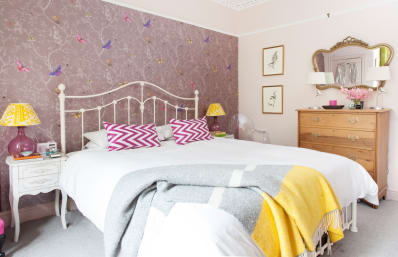 "Chinoiserie" is a catch-all term for any Asian-inspired decoration, from geometric bamboo patterns to pagoda-filled landscapes to delicately climbing florals. Chinoiserie patterns have been popular in wallpaper design since at least the 18th century. Here are several different examples of traditional Chinoiserie, from the classic to the bold.
The term "chinoiserie" (pronounced shin-wah-zer-EE) was coined in France and England in the 17th century, when China began exporting scenic wallpaper to Europe, and it refers to the East-West fusion in design (which often bears no relation to 'authentic' Asian design). Floral chinoiseries are popular in dining rooms and bedrooms, and tend toward the traditional, while geometric and abstract patterns can often lend a '60s-'70s mod feel.
Which of these would you most rather have in your home?