Clean & Classic Eco Kitchen: Get the Look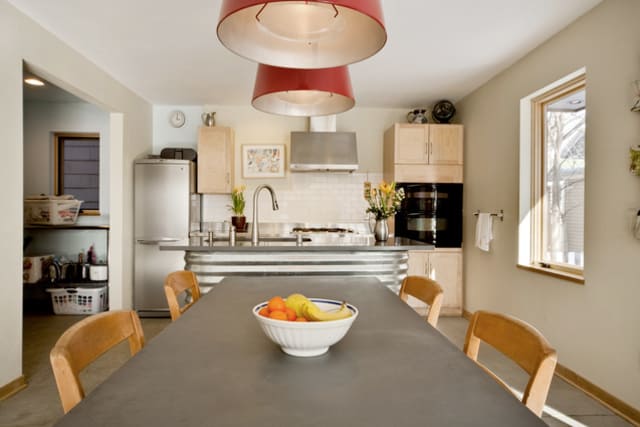 Coffee shop owners Beth and Lindsey created their Madison, Wisconsin dream kitchen with energy-efficient appliances, used tile and stone, and other green features. If you're embarking on your own kitchen renovation and you'd like to go green, here's a helpful list for eco-conscious resources with a similar aesthetic.
Kitchen Furniture & Lighting
Farm and Fleet
This American farm store sells utilitarian products for working farms, homes, and gardens. Their Interior Utility Lights are really inexpensive at $2.99 apiece, and they're made with a chrome-plated cover.
Alluminaire Lighting
Based out of Decatur, Georgia, Alluminaire creates custom lighting in almost any size or color you'd want, and everything is made in the USA. This Drum Pendant Lamp with Red Shade is available through their inventory for $173.
Etsy
They're a good resource for vintage wooden chairs. A recent searched turned up this Set of 4 Vintage Industrial Stacking Chairs, $260 from Etsy seller tuderhoff. (Important to note: this seller is based in London.)
High Street Market
This Philadelphia-based web shop always has a good mix of classic vintage lighting, tabletop, and home decor in long-wearing materials like porcelain and brass. Right now, this XL Haeger White Ceramic Bowl is listed for $48.
Energy-Efficient Appliances
A. J. Madison
New York-based A.J. Madison has an easy-to-navigate website where you can sort out Energy Star certified appliances. This LG Bottom-Freezer Refrigerator is a nice stacked model that's Energy Star certified and sells for $1,333.
HomeClick.com
Whenever I'm looking for higher-end or designer appliances, I usually check out HomeClick since they seem to have good prices. This Fisher Paykel Standard Single DishDrawer is Energy Star compliant and approved, available online for $699.
Abt Electronics and Appliances
Based out of Chicago, this online electronics store has a good selection of energy-efficient appliances, and their customer support staff is helpful. Their LG Front Load Washer/Dryer Combo is $1,440 and Energy Star Certified.
Sears
It's hard to find a truly "green" oven, since stoves require a lot of energy to operate. Newer induction cooktops use electromagnetic currents, which save more energy than electric or gas burners. This 30" GE Induction Cooktop is available at Sears and other stores for $1,330.
Cabinets, Tile, Stone, and Flooring
Habitat for Humanity ReStore
Beth and Lindsey purchased tile and stone for their kitchen through their local Re-Store. Used tile is usually the greenest option, since stone takes a great deal of energy to mine and ship, while the firing process for ceramic tile consumes a lot of energy.
Slab-Lab Concrete Studio
Based out of Boston, this studio creates custom countertops, surfaces, and tables from slab concrete. They also reuse materials, create concrete mixes with recycled materials, and use post-industrial recycled glass in several of their designs.
Hudson Concrete
The industrial aesthetic of Beth and Lindsey's home comes in large part from their concrete flooring. Hudson Concrete (based out of Long Island City, New York) are pros that can answer questions for you, and they're knowledgeable about radiant heating systems, too.
EcoUrban
This Chicago-based company almost always makes our list of good green cabinet resources. They offer an affordable wood veneer collection and all of their cabinets are domestically sourced, with formaldehyde-free substrate and glues.
To see the full tour of this home, click here.

Photo: Joe De Maio