5 Ways to Get the TikTok-Approved "Clean Girl" Home Decor Aesthetic
We
independently
select these products—if you buy from one of our links, we may earn a commission. All prices were accurate at the time of publishing.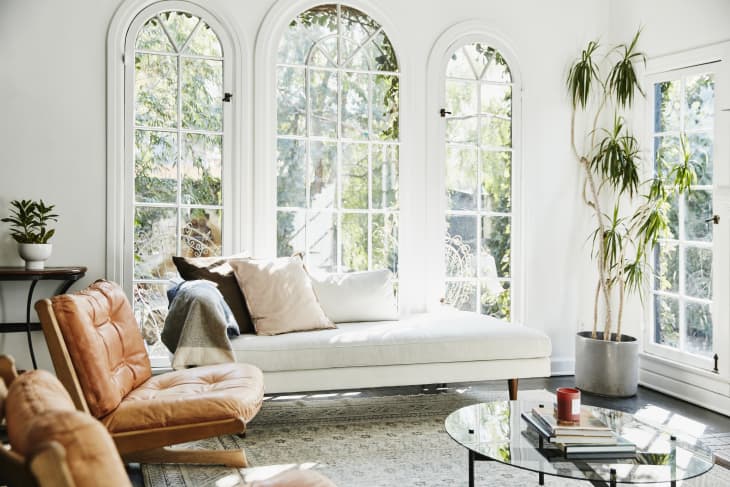 From bona fide interior design movements like cottagecore and cluttercore, to the "soft girl" and "cool girl" lifestyle aesthetics, there's no denying that TikTok has its hand in many of the trends taking over the internet. One particular fad that's recently bridged the gap from #FashionTok to home decor is what's known as the "clean girl" aesthetic. As the name suggests, this style — which also encompasses clothing and beauty — is defined by minimalism, understated sophistication, and prioritizing self-care. 
According to interior designer and general contractor Mae Reedy, the "clean girl" typically touts "sleek hair, a simple and chic wardrobe, and no-makeup makeup." As far as interiors go, that same uncomplicated-yet-elevated logic applies (think: neutral color palettes, pared-down decor, high-quality materials, and ample natural light pouring in through windows). Essentially, "a clean home that is simple yet stunning," Reedy adds.
Although this aesthetic is all about creating effortlessly luxe-looking spaces, let's be honest — it does take a little work to get it right. Here are some expert-approved tips to help you channel the TikTok-approved "clean girl" aesthetic in your own home.
"The 'clean girl' aesthetic is all about simplicity, with minimalist but beautiful decor and furniture," says Alessia Lamonaca, owner and lead designer of the decorating and staging firm New Mode Home. This means choosing interior accessories sparingly and thoughtfully to create a calm, uncluttered space. "A few carefully selected pieces make a statement without overwhelming the space," says Lamonaca. "I'd recommend selecting pieces designed with clean lines and simple shapes and incorporating natural fabrics like cotton or linen." Consider decor accents like modern abstract art, a white vase with fresh flowers or stems, or an oversized mirror propped against the wall.
Keep it light and neutral.
This trend typically favors neutral colors, and interior-wise, that translates to white walls, off-white and beige furniture, and crisp, muted linens. "White bedding and towels are a hallmark of the 'clean girl' aesthetic — crisp white sheets, duvet covers, and towels create a fresh and clean look that's easy to maintain," says Lamonaca. Overall, stick with a predominantly warm palette, then layer in darker neutrals, like grounding gray and black, as accent hues.
Less is more with the "clean girl" aesthetic, particularly when it comes to accessories and decor. "With this in mind, it's crucial to keep the scale of your furnishings in mind," says Reedy. "Opt for larger items to fill your space — couches with deeper seating, and wide accent chairs." If you have the room to do so, this ensures that your home feels intentionally minimalist with large, uncomplicated focal points.
Embrace natural materials.
"The 'clean girl' aesthetic often focuses on a simple, tidy, and natural look," says designer Sarah Barnard of Sarah Barnard Design. "In the same way that the makeup trend emphasizes natural beauty with minimal makeup, in interior spaces, a focus on letting natural materials shine can help carry the aesthetic." Incorporate elements like wood and stone into your decor for a fresh, natural feel, while still maintaining minimalism. "Keep things simple without losing a sense of polish and style," advises Barnard. 
Don't forget to add some greenery as well. While you don't want to overwhelm the space with plants, a few thoughtfully chosen houseplants or a stylish potted tree — paired with a bouquet of fresh flowers on a table — can help any room feel more inviting and peaceful.
Add cozy decor and scents.
Finish off your "clean girl" space with some cozy accessories, like throw pillows, blankets, and a few scented candles. Take advantage of natural fabrics where possible, too, but don't be afraid to throw in some luxurious velvet here and there (just be sure to keep the colors soft and muted). As for fragrances, simple, sweet, and warm are always good choices; when in doubt, you can't go wrong with a classic vanilla candle.