People Who See Themselves As "Super Clean" Are Happier Than Those Who Identify As "Messy," According to Survey
We
independently
select these products—if you buy from one of our links, we may earn a commission. All prices were accurate at the time of publishing.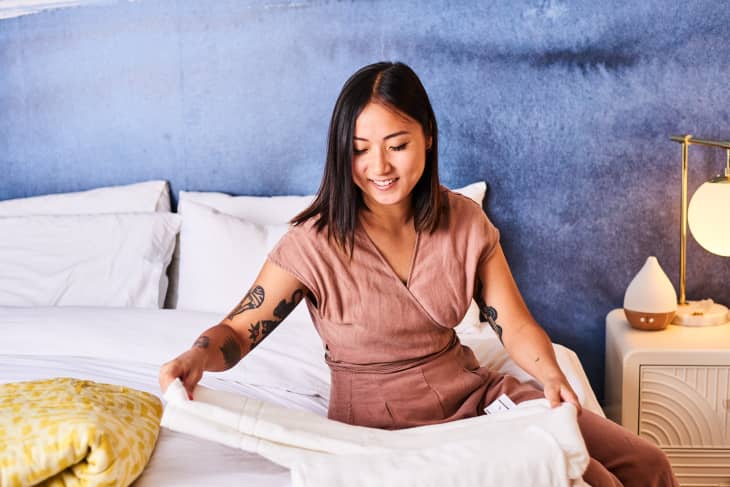 Cleanliness is next to happiness, at least according to a new survey. Earlier this month, we wrote about a study that showed cleaning gives people a burst of adrenaline, like exercise does. Apparently, it's also correlated with happiness, lower stress, and even increased satisfaction with one's sex life. Break out the Swedish dishcloths and get scrubbing!
The new cleaning survey comes from stain removal company Carbona (which, again, like Mr. Clean, the sponsor of the cleaning and adrenaline study, has a stake in making people want to clean). For the study, Carbona worked with OnePoll, to survey 2,000 people, divided into three self-identified groups: super clean, moderately clean, and messy.
People in all three of these groups were asked to report how happy they feel in various areas of their lives, from family to body image to sleep quality. (The poll also asked them about their sex lives and found that clean people have more sex per month than messy ones.) In each of the nine categories, the super clean were happiest, followed by the moderately clean and lastly the messy. Here are the results:
Of course, it's important to take this report with a grain of salt. While it does make sense that keeping a clean home would improve other areas of a person's life, there are other reasons why cleaning and happiness appear to correlate. A person's messiness may be caused by stressful circumstances in the first place, and people who can afford more leisure time have more time available for cleaning. Also, having to report yourself as "messy" for a survey may very well make you see your life in a slightly worse light as you fill out the rest of a survey.
That said, cleaning is a necessary part of life, and if it can make us happier, that's one more push to get it done.