Clear the Clutter: Best Storage Bins for Kids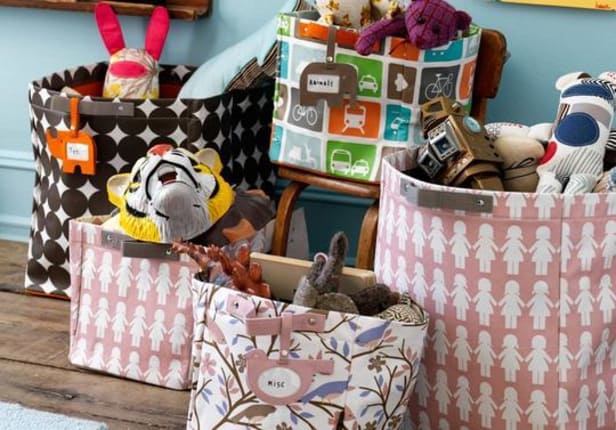 We know the challenges of maintaining a tidy space when children are involved. Sometimes it's all you can do to just have a place in the corner of the room where you can toss toys when in a hurry. So, whether you are looking for a clever, multifunctional hideaway or a modern storage solution that is still kid-friendly, check out these bins in varying price ranges that are sure to help your children stay a little more organized.
High-End
Weego Home
This shop is a great resource for modern, kid-friendly furniture and storage. Their Charles Storage bins are large enough to store toys and designed well so that you could even use it them as end tables. $499
Spacify
Since 2000, Spacify has been making Modern design affordable with their large inventory of furniture and décor and e-commerce that cuts out the middleman. Shown here: Angela Kube Set. A versatile, modular storage system that can be expanded with additional purchases. $360
Via Toy Boxes
Started in 2005 by a father of two, ViaBoxes dedicates itself to creating stylish storage units from sustainable materials. Visit their site to mix and match their various modular units to create a unique piece to fit your needs. Starting at $189.
Community Playthings
Having started back in 1947 out of an old barn in Georgia, Community Playthings now offers handcrafted hand crafted toys and furniture of all kinds for children. This Locking Storage Unit is made of 100% maple and sits atop hidden swivel casters so you can easily hide away the open storage by closing the unit like a book. $730
Under $100
DwellStudio
From one of our favorite design houses comes this line of pliable storage bins. With patterned options for girls and boys, these heavy-duty canvas storage solutions make for smart-looking room accessories you won't mind leaving out in the open. $90
IKEA
In one of their newer lines of storage furniture, comes IKEA's STUVA collection. With five bright colors available, the minimal design fits well in a modern play space. Starts at $99.
Giggle
From this super-fun baby and children's store comes this Chalkboard Storage Bench. Fun and functional, the bright orange is great for kid's themes and the chalkboard lid doubles as a play surface. $70
PB Teen
Serving as both seating and storage, these upholstered cubes from PBteen are constructed out of 100% cotton canvas and cushioned with comfy foam. Sale, $38.99.
Mini Jake
This Brooklyn-based children's store stocks all kinds of colorful, cool kids gear. Shown here: Animal storage box, $27.99.
Overstock.com
We know that kids can outgrow furniture styles as fast as sneakers, so why spend a fortune? Check discount sites for budget-friendly storage units that are both substantial and affordable—like this 6-bin Storage Cabinet for $80.99.
Image: DwellStudio