Close-Up: Staying One Night at the Lux Pod
TheKitchn
and my better half with whom I share my life and home, recently traveled over the Atlantic for an epic solo 2-week backpacking trip across the UK while I was away in NYC for ICFF. She started in London, visiting family and friends, trekked across the British coastline to Cornwall, and then rewarded herself with a brief but memorable stay at the Lux Pod, the very same small-in-footprint, huge-in-tech-amenities rental we
posted just weeks ago
. Below are Emily's notes about staying in the 101 square feet London apartment...
Luxury is not a word I would normally associate with an 101 square foot space but, as I discovered during a recent trip to London, the Lux Pod lives up to its name. South Kensington's Lux Pod may be familiar to readers; the studio apartment first appeared as an entry in Small Cool 2008, and later as an Unplggd Tech Tour. After reading about the vacation rental's minimalist style and high-end amenities, I was curious to actually experience the space for myself.
My Lux Pod experience began well before I arrived in London. Owner Judith ensures that the space reflects renters' preferences, giving them a range of bedding and decor options to choose from prior to arrival. On a more mundane but essential note, she provided me with excellent directions and travel advice. It was a pleasure to communicate with her as I was planning my trip, and this personal touch added to the comfort of staying at the Lux Pod.
Located in a renovated 19th century building, the Lux Pod is incredibly compact yet hardly feels stifling due to its intelligent floor plan, skylights, and discerning, minimalist decor. The Pod's ground level consists of a main room with sitting area, "techno wall," wardrobe, and kitchen; a wet room with toilet, shower, and basin; and a window to the outside world. A portable ladder provides access to the loft bed.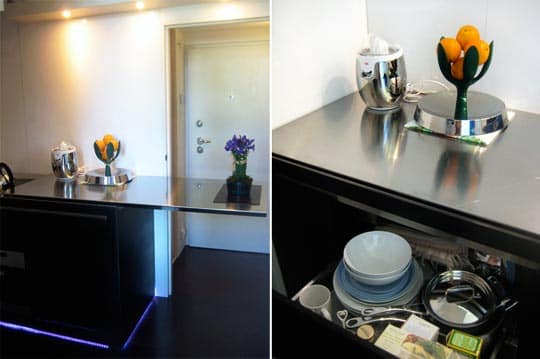 As a cook and design enthusiast, I was most enamored of the Lux Pod's largest element, a Boffi Norbert Wangen K4 kitchen. Closed, the unit looks like a sleek piece of furniture. Open, it turns into a longer tabletop and reveals a sink and rangetop in addition to its refrigerator, oven, and drawer space. It is a beautiful example of compact form and function. Everything else the cook might need is provided in the form of Miele appliances and Alessi tools, and even fruit that Judith leaves for guests to make fresh juice.
The "techno wall" consists of a Bang & Olufsen BeoComTV and Beo2 phone, Eclipse-TD speakers, and an iPod docking station. These features, along with free Wi-Fi, give the Lux Pod dweller a sense of being connected as well as entertained. None of these high tech elements feels intrusive upon the space, but rather offers some visual interest in an otherwise white room. As I was staying for only one night, I did not have the chance to fully enjoy all of the tech features, but I can imagine how much they might be appreciated by the longer-term renter.
Another unique feature of the Lux Pod is the lighting. A Lutron Mood lighting system controls the lights and window shade, and it was great fun to experiment with different lighting schemes upon entering the apartment, lounging on the Bonaldo Dragonfly chaise, lying in bed, and leaving for the day. The lighting, television, and radio can all be controlled with a single, sleek remote.
The Lux Pod's high tech elements are not confined to the main room. The loft bed has its own mood lighting control panel, in addition to well-placed electrical outlets so that one can plug in a laptop, phone, clock, or fan close at hand (this is important, as once one has climbed up to the loft level, one might be averse to scrambling down the ladder again!). The Tempur-Pedic bed itself is comfortable for the weary traveler, and Judith's range of linens can help create an elegant, minimal, or funky mood.
In the wet room, heated floor panels and mirrors make taking a shower in such a small space feel luxurious. Small but important touches like a toilet paper roll cover, magnetic soap holder, and inset cabinet show how well thought out the wet room is.
Throughout the unit, there are examples where Judith has incorporated guests' feedback – a full-length mirror, a bathroom shelf. The ladder, which one must carry from one end of the main room to the loft bed, is rather heavy, so she is in the process of having a lighter one custom made.
Though it is such a small space, there is a lot to learn while staying in the Lux Pod, from how to work all of the appliances to keeping the leather floor and wet room clean and dry. Such thought (and investment!) has obviously been put into the Lux Pod that, as a guest, one wants to show as much care while living in it. Although I thoroughly enjoyed my one night in the LuxPod, I would especially recommend it for single travelers or couples staying for a week or more, as they could truly take advantage of the tech features, self catering appliances, and space to relax.
To learn more or check rental availability, visit the Lux Pod site.
Photos: Emily Ho