Pulver's Retro Modern Home Theater
Have a love for vinyl? Dig wooden retro cabinets? Oh, and do you also get kicks out of hiding your woofer in cute little boxes? Well, get ready because you're gonna be in a for a treat this Friday evening. With every wire consolidated, wooden details relentlessly selected to match the rest of the house design, and a keen eye for great tech, we've got to hand it to Pulver as this may be one of the finest home theaters we've seen yet.
Despite lookin' ever so sexy, one big concern might be the placement of the HTPC and amplifier into that tight little space in the middle. Yes, it looks cleaner than anything we've ever seen, but a little ventilation for those extra hot components might be a good idea if he's looking to prolong his equipment life.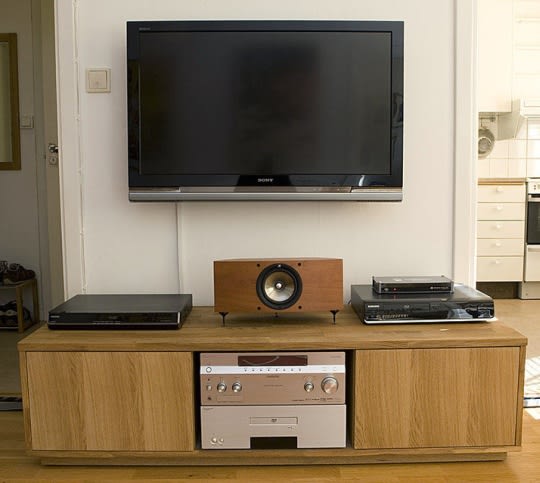 That said, man is his setup a beauty. Combining every scheme from the late 1970's to modern day gloss black, his home theater is like an homage for audiophile and home theater aficionado tech from the past 40 years.
Finally, one of our favorite details in this awesome close-up is his custom built IKEA HOL end table (Thanks Rich!) subwoofer box that encloses and hides the bulky thumper on the left side of the room against the wall. If you didn't know any better, you'd want to sit on it! Ah, but that's when we throw on that intro from 300 to shake your pants off. Oh, yeah.
Resources:

Audio Pro Sub Level 110 ( Aktiva subbasar )

KEF iQ1 ( Surround-/ stativhögtalare )

KEF iQ2C ( Centerhögtalare )

KEF iQ3 ( Surround-/ stativhögtalare )

Logitech Harmony One ( Fjärrkontroller )

OrigenAE H6 (Silver) ( Desktop/HTPC )

Popcorn Hour A-110

Samsung BD-P1400

Sony Bravia KDL-40W4000 LCD TV

Sony STR-DA5300ES

Toshiba HD-EP35
(Images: Pulver)