The "Closing Shift Cleaning" Hack Will Set You Up for Success
We
independently
select these products—if you buy from one of our links, we may earn a commission. All prices were accurate at the time of publishing.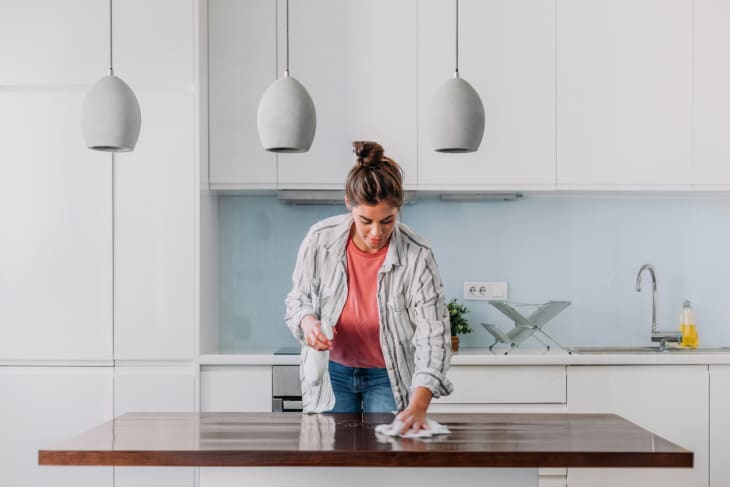 If you've ever worked a closing shift at pretty much any customer service job, then you're well aware of the concept of closing shift cleaning, aka thoroughly cleaning and organizing your workplace before heading home so that it'll be clean and ready for another day of business tomorrow.
If we're required to show that degree of dedication to keeping businesses clean, why not devote the same daily attention to cleaning our homes? That's the rationale behind the recent TikTok trend "closing shift cleaning," which was first coined by content creator Clara Peirce (@clararpeirce).
"Whenever I'm really trying to set myself up for success the next day, I will do what I call a closing shift … I just close up my apartment like I would if I was at work," Clara explained in a viral TikTok. "Sometimes closing shift is cleaning my entire apartment, sometimes it's just making it ten percent better for the morning, so I feel like I did something to set my next day up on the right foot."
Clara proceeded to show examples of her closing shift cleaning, from decluttering her living room to washing dirty dishes to cleaning her rabbit's litter box. Since sharing her closing shift tip last month, the content creator's video has received over 3.8 million views, and the hashtag #closingshiftcleaning has received over 71.3 million views, as users show what their version of this cleaning style looks like.
In the words of one TikTok commenter, "Omg I never realized I live my life as a closing shift!"