Coachella Gives the Palm Springs Real Estate Industry a Boom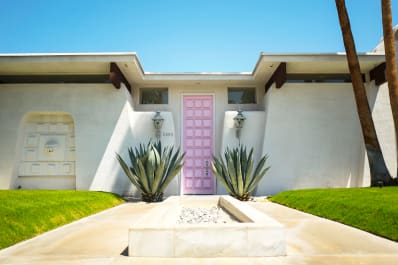 (Image credit: DOUGBERRY/Getty Images)
It's perhaps the most Instagram-drenched event in the world: The Coachella Music and Arts Festival, which takes place this weekend in Indio, California, is the epicenter of festival style. And while most concert goers will be focused on everyone from Lorde to DJ Khaled taking the stage, it turns out that the the iconic event will influence a whole lot more than the flower crown industry. It could affect real estate, too. According to data recently released by HomeLight, Palm Springs homeowners who list their home in April could sell their property for more than 11% above the yearly average.
The long and narrow Coachella Valley, which includes the towns of Indio, Palm Springs, Coachella and more, is synonymous with midcentury design, sun-drenched deserts, and Old Hollywood. Palm Springs has long been an iconic destination, ever since the days when Hollywood studios basically owned their actors, and wouldn't allow them to be more than two hours away from the studios.
"Different hotels and spas and resorts started popping up where the hollywood elite would go away," says Byron Lohman, a real estate sales agent with Berkshire Hathaway HomeServices CA Properties. "Palm Springs started to bloom and grow because of Marilyn Monroe and Frank Sinatra and everyone that was coming out to get away from LA."
In the present day, April music festivals like Coachella and Stagecoach are the biggest events that draw tourists into the Coachella Valley — and many of them end up staying. Since it generally takes about four months to close on a home in Palm Springs, homes that are listed in April and close in July will sell for more than 11% above the yearly average, according to HomeLight.
"What we find as agents is that when people come in… they are really event focused. But they get exposed to the environment, the beauty, the culture, the brand," says Lohman. "That's what the people do. They come for these events, they get exposed. They don't buy when they're there, but they call you the next week."
Lohman says the typical buyers are either young people, or those in their middle 40's and 50's that are looking to get away from Los Angeles, San Diego, or San Francisco and find homes to vacation rent out until they're ready to retire. While many people stay in hotels, those who choose a vacation rental get a closer view of the housing market.
"These people are buying the house, using it when they want to, and renting it out when they're not," says Lohman. "That perpetuates the goal to buy and offset some off the costs."
Just think how many flower crowns that money could buy!