Colette's Sweet & Smart Nursery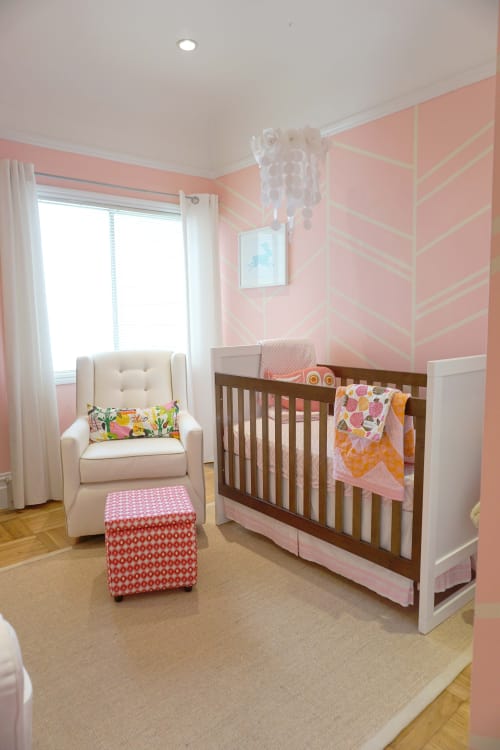 (Image credit: Ryan Morrison )
Name: Colette (9 months)
Location: San Francisco, California
Designing our daughter's nursery was a labor of love and the part we most enjoyed when creating it was thinking about Colette growing into it. Though I wish I could keep her my little baby forever, we wanted to make sure that it would be sweet and fun for her as an infant, but we also wanted it to transition with her as she becomes a toddler.
(Image credit: Ryan Morrison )
Our major obstacle for designing her nursery was the space. We live in San Francisco which means small rooms and tight quarters. We had to ensure that Colette's crib and all other furniture would fit comfortably in the room, even when we have friends and family visit because it doubles as our guest room. We thought smart in regards to space, and we made things play double duty, like using her dresser as a changing table and picking a loveseat that folds out into a bed.
(Image credit: Ryan Morrison )
(Image credit: Ryan Morrison )
Throughout the room are a lot of handmade items. For our wedding, I created a floral paper wall and repurposed the flowers for the mobile above the crib. The crib blankets and many of the pillows are from my children's store, anchor & adorn. Above her changing table we found an old mirror in a discount bin that with a couple coats of paint was brought back to life and it and it works great in the space
Additional items include:
anchor & adorn quilt and blankets
Pottery Barn Kids Harper crib sheet and skirt
Jonathan Adler owl pillow
Little Castle custom upholstered swivel glider
Baby Mod crib
Paper flower mobile and framed prints by Jenn and Ryan Morrison
(Image credit: Ryan Morrison )
(Image credit: Ryan Morrison )
(Image credit: Ryan Morrison )
Thanks, Jennifer! Readers, you can find Jennifer at her baby good shop, anchor & adorn.