Collaborative Consumption: 10 Swap & Share Sites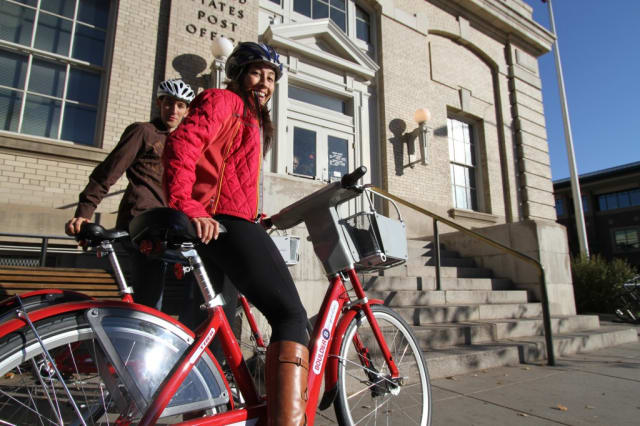 Rachel Botsman's 'What's Mine is Yours: The Rise of Collaborative Consumption' argues that online communities are changing the way we shop. Disillusioned with novelty and marketing gimmicks, consumers — she believes — are relying more on peer-to-peer marketplaces that allow us to trade, barter, and rent products and services.

Are social networks changing the way we consume? It's a utopian idea, but it's based in analysis of changing consumer behavior. For a glimpse of how it works, here are 10 models of collaborative consumption.
Baby Goods
For more baby goods swap sites, click here.
Swap Baby Goods
This online marketplace allows you to sell, trade, or buy everything from car seats to nursery furniture. Their mission is to "save money and the environment by providing an online venue to swap baby items" that are quickly outgrown.
Bikes
For more bike sharing programs across the US, click here.
B Cycle
This bike sharing program started in Denver and has since expanded into Chicago, Des Moines, Hawaii, Louisville, and San Antonio. Users pay for membership, sign out a bike, ride, and return — if you're a visitor to one of these cities, you can buy a 24-hour membership.
Books and Media
For more book swap sites, click here.
Swap.com
Formerly known as Swap Tree, this site pairs people who want to trade books, CDs, movies, and video games. It markets itself as "the world's largest swap marketplace," and it boasts a huge network of international swappers.
Cars
For more car sharing sites, click here.
ZipCar
This is the most popular US car sharing service, with programs in nearly 100 American cities, in addition to British and Canadian services. A monthly membership fee enables you to rent cars by hourly intervals for short trips.
Clothing
For more clothes swap sites, click here.
SwapStyle.com
The "world's biggest fashion swap site," they have the largest network of clothes sharers. Users are "money saving women from all over the world who are making new friends and swapping clothes, cosmetics, books and more every minute of the day for free."
Furniture
For tips on finding what you want on craigslist, click here.
Craigslist
A grandfather of the online share/swap community, Craigslist facilitates trades in addition to classifieds listings and straightforward sales. Check the "free," "furniture," and "wanted" sections to find sharers, buyers, and sellers.
Homes
For other home exchange sites, click here.
HomeExchange.com
Sites like HomeExchange.com allow users to trade their homes with someone else's for a vacation period. It's a one-to-one deal and you save money by avoiding accommodation costs, although you may have to pay membership fees.
Kitchen & Cooking Stuff
For tips on joining a Community Supported Agriculture program, click here.
ShareSomeSugar.com
This site takes the old-fashioned concept of "borrowing a cup of sugar from your neighbor" and puts it online. Users register in their neighborhood to borrow, rent, or trade anything from Coleman coolers to hand mixers.
Makeup
For more on makeup swapping, click here.
Makeup Alley
This community posts reviews of beauty products, participates in discussion boards, and swaps products online. They focus on information sharing as much as actual product swapping, and the site includes frequently updated shopping diaries and photo pages.
Tools
For more on tool sharing, click here.
The Southeast Portland Tool Library
Portland has some of the most well developed tool sharing programs in the country. The Northeast and Southeast PDX Tool Libraries are non-profit organizations that allow members to borrow tools for home improvement projects.
RELATED RESOURCES
• What's Mine is Yours: The Rise of Collaborative Consumption | Re-Nest
• CollaborativeConsumption.com
• Video: Rachel Botsman's Case for Collaborative Consumption | TED.com

Photo: Boulder B Cycle