Color Pros: 10 Inspiring Interior Designers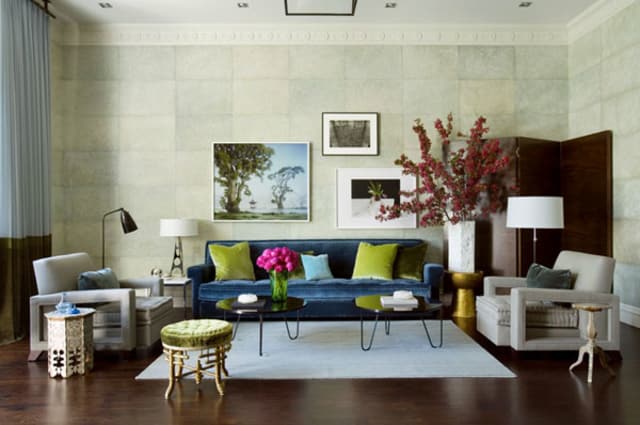 It's a designer's job to know color, so it makes sense to use the pros as a resource for ideas when you're making over your own home. Whether you're in the market to hire someone, or you're just looking for some good websites to bookmark for inspiration, here are a few suggestions. This is a mixed bag — some are new-on-the-scene designers, some are celebs, some are combination shop/studios, and some are established high-end firms.
John Loecke Interior Design
Apartment Therapy toured John and Jason's home in three parts, and it was one of our most popular and colorful tours of the year. This Brooklyn-based design team doesn't take anything too seriously, and their interiors are playful, fun, and totally individualistic.
Frank Roop Design and Interiors
A well-known designer based in Boston, Frank Roop's signature blues and greens are instantly recognizable. He comes from a background in menswear, so his rooms have that tailored and sophisticated look.
Graham Moss
Originally from Seattle, Graham lived in Melbourne, Australia for many years and worked there as a corporate designer before moving to NYC. You can see his stylist's eye at work in his interiors, which are full of richly painted accent walls, colorful collections, and high-contrast pairings.
Anne Coyle
Based out of Chicago, Anne Coyle's style is fairly traditional with some glamorous vintage items and unusual color choices to liven things up. It's a mash up of Hollywood Regency, Asian pieces, Jonathan Adler style seventies retro and influences from nature.
Pinch Designs
Located in London, Pinch Designs is the work of husband and wife team Russell Pinch and Oona Bannon. Their style is easy and classic, and you'll see a lot of neutral interiors with brightly colored and patterned pieces that set everything off.
Kenneth Brown Home
Celebrity designer Kenneth Brown has a more sophisticated aesthetic than your average HGTV host, and his interiors are characterized by rich brown walls and warm pops of color. If you live in LA, he's got a cozy shop in the La Brea neighborhood that's worth a visit.
Kara Mann Design and Showroom
This Chicago designer's signature palette blends earthy textures with high-gloss accents and one-of-a-kind accessories. It's a dark, richly colored aesthetic (often tagged with the "Goth" title) that stands out from the pack.
Retrouvius
This combination shop and design studio is based in London. They have an inventory of what they describe as "mad and quirky pieces," and they collaborate with architects and designers to "kit out" homes, hotels, and storefronts with bright, colorful pieces.
RePop
Located in Brooklyn's Clinton Hill neighborhood, RePop is part interior design studio, part shop. They're a goldmine of vintage mid-century furniture and artwork — many things have a well-worn aesthetic, but you'll also find colorful accessories and wall coverings.
Lichten Craig Architects
New York and Chicago-based LCA aptly describe their work as a "confident and well-edited balance of elements—formal and casual, classic and modern." Check out their portfolio for smart and subtle color ideas.
Photo: Frank Roop Interiors