4 Plants That'll Still Bring Color to Your Home, Even When It's Cold Out
We independently select these products—if you buy from one of our links, we may earn a commission. All prices were accurate at the time of publishing.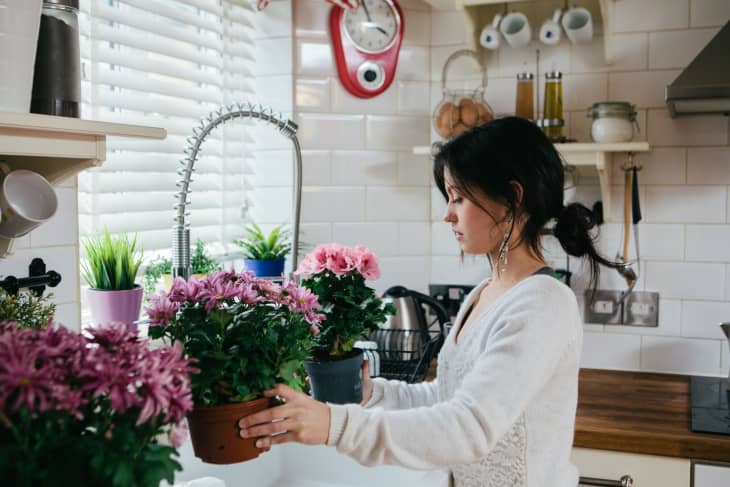 We've arrived at the time of year where many people are dangling on the edge between the chilliness of fall and the harshness of the first hard frost. Their gardens are slowly dying off—summer annuals long gone and the softness of muted reds, oranges, and yellows are being swept away by the wild winds of November. Mums have taken the place of zinnias and ilex berries are starting to turn bright red. 
Follow Topics for more like this
Follow for more stories like this
Yes, the start of the colder months can be altogether depressing, but where there's a will, there's a way. If you're looking to bring color into your garden or home in fall or winter, there are definitely options out there for you to stretch blooms into the hard winter.
Winterberry (Ilex verticillata)
Although these bushes need to be planted in the spring, the winter payout is tenfold. This particular variety is a deciduous dwarf variety that loses its leaves in the fall. Fret not, because once the leaves drop, the bright red berries have the chance the shine. These branches are so sought after in New England that I've seen people pull over on the side of the road to cut them from public land for decoration. If you decide to plant this variety you will need a male pollinator to produce the fruit. These plants prefer part to full sun and can adapt to many different soil conditions, including wet locations in your garden. Note: Ilex berries are toxic to cats and dogs.
Witch hazel (Hamamelis virginiana)
Witch hazel is one of my favorite plants that blooms in the winter. This shrub has gorgeous orange flowers that bloom from October through December. Not only are the flowers stunning to look at, but they're also very fragrant. You've probably seen a bottle labeled with "witch hazel" in the pharmacy; that's a product made by distilling the bark and roots of young trees. Plant witch hazel where it will get part to full sun exposure and will have moist soil.
You'll be able to find varieties of mums that will bloom through late November. These babes are hardy and will typically keep their blooms until the first hard frost. If you don't like the typical "flower shop mums," there are plenty of heirloom options out there for you. Most people don't realize that Chrysanthemums come in many different shapes, sizes and colors. Try "Seaton's Ruby" for warm red-orange petals that open into a large bloom. According to the ASPCA, Chrysanthemums are toxic to both dogs and cats.
These plants are fun to look at and great to use as a border or as a compliment in potted arrangements. You can typically find ornamental peppers at any nursery during the fall. They come in a few different shapes, sizes and colors. If you're looking for something that doesn't look like it should be hanging in your grandmother's kitchen, check out the "Black Pearl" variety with its dark purple berries.
The toxicity information varies by the variety of ornamental pepper you choose. Be sure to cross check your sources if you're worried about pet exposure.