Colorful Modern Living Room: High & Low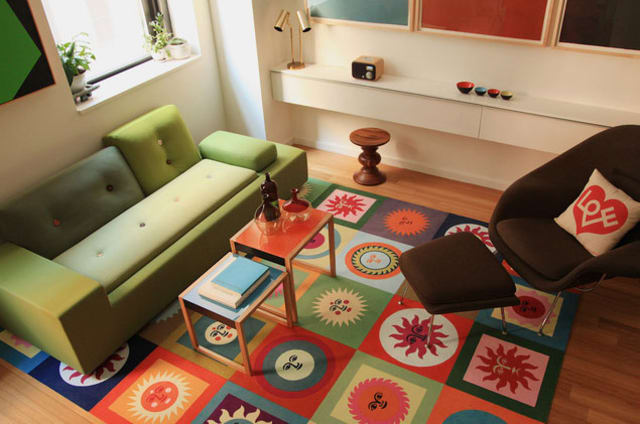 Gene and Heidi's home is one of the most sleek and colorful spaces that's appeared on Apartment Therapy. They've mixed high-end modern designer pieces with a few carefully chosen IKEA finds and lots of gorgeous artwork to create a vibrant space. Whether you're looking to invest in high-quality furniture or you're working within a tight budget, here are a few sources for achieving a similar look.
Sofa
The difference in price between high and low sofas has to do with the quality of the frame, cushions, springs, and upholstery, as well as how it's made. Handwork and designer cachet can further elevate the price. For tips on buying a good sofa, see this post.
Vitra
Swiss company Vitra has been manufacturing modern furniture since the 1950s, and they continue to work with cutting-edge designers, such as Hella Jongerius, who designed this Polder Sofa ($8,500). Inspired by low-lying Dutch fields, it's composed of five different green fabrics with hand-sewn button tufting.
Urban Outfitters
Their sofas tend to have weaker frames and springs than higher quality pieces, but the tweed upholstery on this couch is a nice color, and the price is good for someone on a tight budget. The Night and Day Convertible Sofa is $588, and the low form would go well in a modern room.
Armchair
Eero Saarinen's Womb Chair, designed in 1948 is a classic piece that's made for curling up. Its name comes from the way it envelopes the sitter.
Design Within Reach
They sell licensed reproductions of the Womb Chair, which means these pieces are manufactured by Knoll according to the designer's standards. DWR has 14 different fabric upholstery options, as well as leather and special editions. The version shown here is $3,076.
White Furniture
This store sells a lot of mid-century knock-offs, like this Cozy Lounge in Brown Tweed for $550. The form is more elongated than the original Womb Chair, and the fabrication process differs from Knoll's — this is an injection-molded frame covered in foam and brown tweed fabric.
Rug
The colorful patterns on the rug were created by Alexander Girard, a mid-century fabric designer who made patterns for Herman Miller and was strongly influenced by folk art.
Flor Modular Carpet Tiles
FLOR has a line of Alexander Girard carpet tiles that can be mixed and matched into smaller or larger rugs. The La Fonda Del Sol Rug Set costs $160 for 6 tiles, which works out to about $9.91 per sf, or about $800 for an 8x10 rug.
Land of Nod
For a similarly bright rug on a budget, try childrens' stores. Chicago-based Land of Nod carries several bright grid rugs, including this New Kid on the Block Rug, which ranges from $129 to $599 for an 8 x 10.
Side Tables
Gene and Heidi have a set of nesting tables by Josef Albers, a Bauhaus-era artist who specialized in abstract geometric paintings made from saturated squares of colors. His tables are likewise colorful and inventive.
MoMA Design Store
MOMA (along with several other modern stores) carries the Albers Nesting Tables for $1,950. Manufactured by Vitra, the tables are composed of solid oak bases and glossy, acrylic-glass tops.
IKEA
For nesting tables on a budget, I like IKEA's Klubbo set, $80. A little bit of paint and a shiny new glass top could create a Albers-inspired effect. Or, for a more handy DIY version, click here.
Shelving
Enclosed wall-mounted shelving can add storage while maintaining the streamlined aesthetic that makes this room feel so clean and modern.
Bo Concept
Danish company Bo Concept has stores in the US, where they sell a range of wall-mounted shelving systems in glossy black or white finishes, as well as wood. The Volani is a modular wall system that can be designed to fit your space — components start around $1,000.
IKEA
Gene and Heidi used a set of 3 Besta Burs Wall Shelves ($100 each) to create a long, thin line of shelving along their living room wall. The shelves also mimic a console table, providing a natural spot to place a few carefully chosen accessories.
For the full tour of this home, click here.

Photo: Gene Na