5 Things That Seem To Always Break During the Holidays—and How To Fix Them
We independently select these products—if you buy from one of our links, we may earn a commission. All prices were accurate at the time of publishing.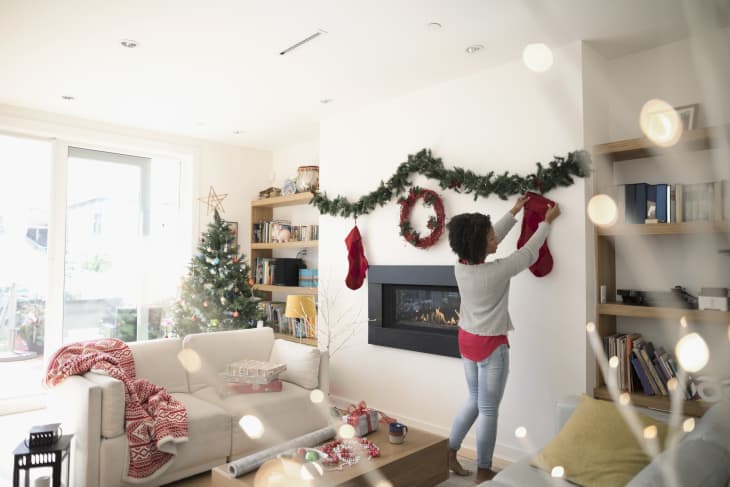 Over the holidays, the last thing you want to deal with as you cook an elaborate meal and wrap any last-minute presents is a major home or appliance repair. But it happens a lot, thanks to additional use, weather, and holiday decorations. Here are some expert tips on how to prevent and solve problems that threaten to ruin your holiday cheer.
Follow Topics for more like this
Follow for more stories like this
So, you get takeout three times a week the whole year and then push your oven to the brink cooking multiple cookie batches and several courses for a holiday dinner. Sound familiar? It makes sense that your oven may be one of the first appliances to give up over the holidays. Luckily, you have some power to prevent your oven from letting you down when it's time to serve a turkey or roast.
Ron Shimek, President of Mr. Appliance, says that people sometimes think they are helping ovens to perform better by placing aluminum foil on the bottom of their oven or their oven racks, but this preventative cleaning strategy backfires. "Aluminum foil can block airflow and interfere with the heating element, which can cause oven failure or make recalibration necessary," Shimek says. He recommends just cleaning the oven thoroughly on a regular basis instead.
In addition, the knobs and switches can stop working if you aren't cleaning them well. Do not spray controls with household cleaner, which can cause a short in the control panel. Instead, spray the rag itself with the cleaner and then clean the controls.
Angie Hicks, the founder of Angie's list, recommends in her guide that people can avoid oven repairs over the holidays by not running a self-cleaning cycle within two weeks of cooking a major holiday meal. "Many ovens have shown a tendency for their electrical components to fail after a self-cleaning cycle, in which the oven temperature reaches close to 1,000 degrees Fahrenheit," she writes.
Also worth noting: Frequently opening the oven door while cooking can significantly lower the temperature, making you think you have an oven issue when you don't. Open the door as little as possible, and instead rely on peeks through the window with the oven light on.
Maybe you've been using your dishwasher a few times per week during a normal work week, but after big holiday dinners your dirty dishes triple. If a dishwasher wasn't doing too well to begin with, this can push it to a breaking point—literally. You may also experience dishes not being thoroughly washed as your dishwasher works extra hard to keep up with your needs.
Shimek recommends rinsing dishes a bit to prolong your dishwasher's life, and also investing in a dishwasher cleaning product to use every few months on an empty cycle. This can remove calcium deposits and prevent the sprayer from clogging. Finally, if you haven't been cleaning your dishwasher screen (located at the bottom of the dishwasher, trapping food and particles), now's the moment. It may not be pretty the first time. If you skip cleaning this filter, Shimek says it "degrades into a sludge that blocks water flow and eventually requires a repair."
With more people at home using the bathroom, your toilet has a higher chance of getting clogged or breaking. The last thing you want to be doing is finding a plumber open on a major holiday. Make sure that nobody is attempting to flush any of the following items, Glenn Gallas, vice president of operations for Mr. Rooter Plumbing says:
Tampons and feminine products
Q-tips
Fats and oils
Medication, dental floss, and hair
Personal wipes
Kitty litter
If you attempt to unclog a toilet yourself, use a quick and repetitive motion and ensure the water is draining before flushing it. If that doesn't work, avoid pouring any sort of chemicals in the toilet, and turn off the water to the toilet (you'll find the valve right behind the toilet). That way no one will accidentally flush it. Then, call a plumber for help.
Your overexerted electrical system
The best laid plans fall to pieces when you've had a well-working light display for weeks and now, when it matters, something goes wrong. Whether a storm is the culprit, or a circuit that has shorted, it's important to keep fire safety on the brain while you work on your light displays. Mark Dawson, Chief Operating Officer at Mister Sparky says that overloaded circuits can easily start fires, so be careful about plugging too many lights into one outlet. Here are some other issues you might encounter, and how to fix them.
Check the main service panel if your holiday lights are out to see if you tripped the circuit. 
Most mini lights have a small cartridge fuse in the cord plug, which you can check for breakage. If that fuse has broken, it can be replaced.
Buy just one replacement bulb if you find a faulty bulb causing the whole line to go out, and ensure the bulb is actually broken and not just loose.
Aside from holiday lights, running too many space heaters or appliances can cause electrical systems to overload. David Fisch, franchisee and owner of Handyman Connection of West Omaha, says sometimes homeowners install new appliances without realizing they may need their own separate, dedicated circuit. If you are installing a high-powered heater in your garage, for example, most often, these will require a 240v, 30-60 Amp circuit, he says, which should be professionally installed by an electrician.
Your forgotten sprinkler system
You're probably not thinking much about your lawn right now, but if you haven't already drained your sprinkler system, use the holidays as your annual reminder to drain your sprinkler lines from inside the house. Fisch says if you forget, "water in the lines can freeze, causing the overflow valve to crack and leak or gush or worse, and lines may burst requiring a more expensive and costly repair." This only gets more likely as winter goes on. Fisch recommends the following steps to avoid damage:
Outside the house, turn off the water shut-off valve and open the bleed valves.
Hang a bucket on the drain line inside.
Open the valve and allow all the water to drain into the bucket.
Leave the bleed valves open all winter.